Álvaro Cunqueiro, Néstor Luján and Family
Keywords:
Álvaro Cunqueiro, Néstor Luján, literary journalism, Joan Teixidor, Spanish post-war novel
Abstract
The aim of this article is to document and date, in detail, the relations between Cunqueiro and distinguished Catalan intellectuals in the 1950s and 1960s from memorial texts, news in journals and authors' testimonies. Thus we can establish the chronology of these contacts and follow the reception of Cunqueiro's work and personality in the Catalan press.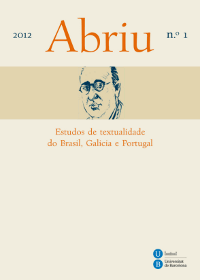 Downloads
How to Cite
Sotelo Vázquez, A. (2012). Álvaro Cunqueiro, Néstor Luján and Family. Abriu: Estudos De Textualidade Do Brasil, Galicia E Portugal, (1), 21–35. https://doi.org/10.1344/abriu2012.1.102
License
The Author retains ownership of the copyright of the article, unless the contrary is stated, and all rights not expressly granted in this agreement, including the non-exclusive right to reproduce, distribute, perform, and display the article in print or electronic form, and grants to Abriu: estudos de textualidade do Brasil, Galicia e Portugal the exclusive rights to first publication of the Article. The work will be available under a Creative Commons Attribution-Noncommercial-No Derivative Works license, by which the article must be credited to the Author and the Journal must be credited as first place of publication.