The Question of Mimesis in Brazilian Colonial Literature
Keywords:
mimesis, rhetoric, Brazilian literature, Baroque, Enlightenment
Abstract
This paper aims to investigate how mimesis rules Brazilian colonial literary production, considering a tension between its understanding as an imitation of nature or human actions and as an emulation of canonical authors and rhetorical topics. We propose that the crossing of those two understandings causes a transformation of the classical topics, without thereby considering colonial literature as original or detached from European literary series.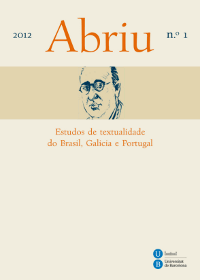 Downloads
How to Cite
Saltarelli, T. (2012). The Question of Mimesis in Brazilian Colonial Literature. Abriu: Estudos De Textualidade Do Brasil, Galicia E Portugal, (1), 79–92. https://doi.org/10.1344/abriu2012.1.106
License
The Author retains ownership of the copyright of the article, unless the contrary is stated, and all rights not expressly granted in this agreement, including the non-exclusive right to reproduce, distribute, perform, and display the article in print or electronic form, and grants to Abriu: estudos de textualidade do Brasil, Galicia e Portugal the exclusive rights to first publication of the Article. The work will be available under a Creative Commons Attribution-Noncommercial-No Derivative Works license, by which the article must be credited to the Author and the Journal must be credited as first place of publication.