On the Scale of Grey in Brazilian Crime Fiction
Keywords:
crime fiction, hardboiled, detective fiction, contemporary Brazilian literature
Abstract
In this essay, the intention is to map the plurality of crime writing —that is detective, mystery or crime fiction— which has appeared in Brazil over the last quarter of a century. Working from reflections which have already been published as well as specific reading choices, a "biased" corpus of reference has been established. It incorporates the spectrum of this unique grisaille fiction, with regard to the conventional parameters of the genre, in both the more orthodox works and the more unorthodox works, favouring those that examine the issues of human social concerns.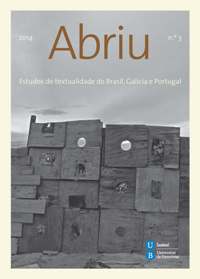 Downloads
How to Cite
Martínez Teixeiro, A., & Martínez Pereiro, C. P. (2014). On the Scale of Grey in Brazilian Crime Fiction. Abriu: Estudos De Textualidade Do Brasil, Galicia E Portugal, (3), 29–49. https://doi.org/10.1344/abriu2014.3.2
License
The Author retains ownership of the copyright of the article, unless the contrary is stated, and all rights not expressly granted in this agreement, including the non-exclusive right to reproduce, distribute, perform, and display the article in print or electronic form, and grants to Abriu: estudos de textualidade do Brasil, Galicia e Portugal the exclusive rights to first publication of the Article. The work will be available under a Creative Commons Attribution-Noncommercial-No Derivative Works license, by which the article must be credited to the Author and the Journal must be credited as first place of publication.