Books of Disquiet – In the Plural
Keywords:
Livro(s) do Desassosego, editor, Vicente Guedes, Barão de Teive, Bernardo Soares
Abstract
In this essay, Teresa Rita Lopes defends the theory of a triple fictional authorship for Livro(s) do Desassossego, as she adds the pseudo-heteronym Baron de Teive to Vicente Guedes and Bernardo Soares, the two authors who had already signed some editions of Livro. This theory is followed by the author in her recently launched critical edition of LdD (Brasil), which provides relevant developments in the text's setting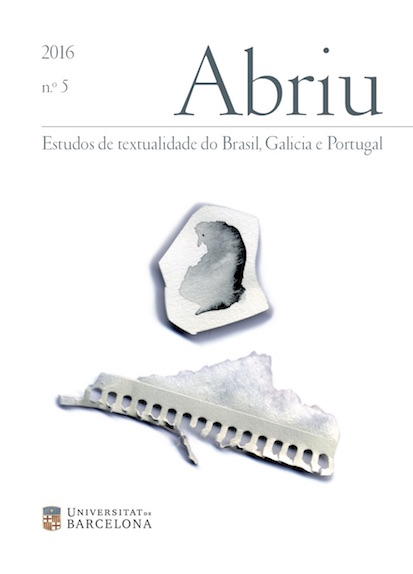 Downloads
How to Cite
Lopes, T. R. (2016). Books of Disquiet – In the Plural. Abriu: Estudos De Textualidade Do Brasil, Galicia E Portugal, (5), 79–93. https://doi.org/10.1344/abriu2016.5.6
License
The Author retains ownership of the copyright of the article, unless the contrary is stated, and all rights not expressly granted in this agreement, including the non-exclusive right to reproduce, distribute, perform, and display the article in print or electronic form, and grants to Abriu: estudos de textualidade do Brasil, Galicia e Portugal the exclusive rights to first publication of the Article. The work will be available under a Creative Commons Attribution-Noncommercial-No Derivative Works license, by which the article must be credited to the Author and the Journal must be credited as first place of publication.