Los riesgos geológicos en la Ordenación Territorial
Abstract
There are wide areas of the planet where the incidence of natural catastrophes is very high, particularly in areas with high population density or where areas under natural risks are occupied. Most of these areas belong to a clear tectonic setting.
In addition, public awareness on these natural catastrophic phenomenon acquires nowadays an additional dimension due to the important role of mass media. Mass media informs immediately al1 over the world on these caastrophes, for example, the big earthquakes (Mexico, California, Japan), landslides, floods, eruptions, hurricanes, etc.
These geological phenomena are caused by the normal processes within the earth's crust, which have social and economic consequences. These processes have shaped our planet,with more or less dramatic consequences depending on their speed and intensity.
Catastrophic events are gauged by their environmental effects, mainly on the biosphere. Socioeconomic disasters have also augmented as the increase and concentration of population have increased the risk on populated areas.
Finally, the necessity of preventive measures is clear on global risks, such as the effects of global warming of those resulting from the management of water resources.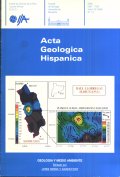 Downloads