Geoquímica aplicada al medio ambiente
Abstract
In this work it is intended to determinate the different effects that the chemical elements defining the "landscape geochemistry" produce in the environment. These effects, thougt to be positive or negative under human perspective, are due to the physico-chemical behaviour of the element, to their interaction with the environrnent and the final use of these elements by the man.
The different methods and techniques applied in geochemical prospecting are presented in order to examine the varied options determined on the defined object. As last target, this work deals with placing the enviromental applied geochemistry as an geochemical prospecting and geoepidemiology and enviromental geochemistry interactiori.
Five examples in zones near Barcelona and the isle of Menorca are presented.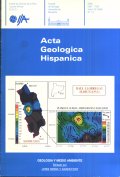 Downloads