High resolution conodont-graptolite biostratigraphy in the Middle-Upper Ordovician of the Sierra de La Invernada Formation (Central Precordillera, Argentina)
Keywords:
Graptolites Conodonts, Ordovician, Argentine Precordillera.
Abstract
Outcrops on the western slope of the La Invernada Range, San Juan Precordillera (W Argentina), were surveyed for lithofacial analysis and graptolite-conodont high resolution biostratigraphy. The study profile for the upper Sierra de La Invernada Formation is approximately 500 m thick and is located in the northern part of the La Invernada Range. Successive shallowing-deepening sedimentary cycles crop out throughout the upper part of the formation. The dominantly lower turbiditic sandy deposits alternate with shaly pelagic sedimentation, and occasional coarser intervals that record gravitational flows. Hummocky structures occur in the uppermost part of the formation, indicating sedimentation under storm weather conditions. Rich graptolite faunas representing six upper Middle to lower Upper Ordovician biozones have been recorded from this section: Pterograptus elegans (tentative assignment), Hustedograptus teretiusculus, Nemagraptus gracilis, Climacograptus bicornis, Diplacanthograptus caudatus, and Climacograptus tubuliferus biozones. This graptolite biostratigraphy is complemented by the conodont records from successive productive levels, which yielded conodonts that represent the Pygodus serra, P. anserinus, Amorphognathus tvaerensis, and A. superbus biozones. The recorded conodont-graptolite assemblages allow for a correlation with the upper Darriwilian, Sandbian and lower Katian global stages, and provide preliminary biofacies records for the upper Sierra de La Invernada Formation.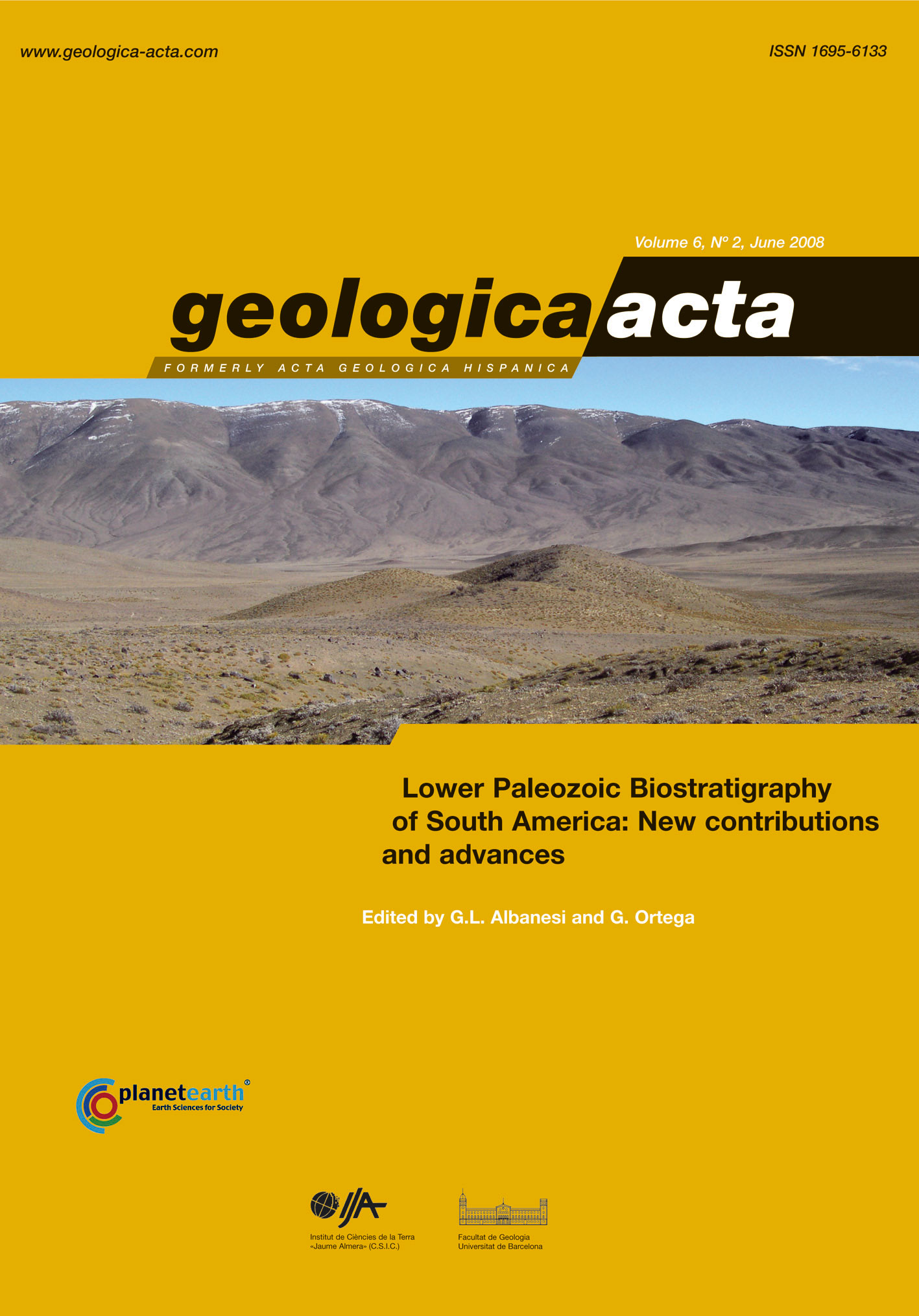 Downloads
License
Copyright
The commercial rights of the printed and online versions of Geologica Acta are property of the UB, ICTJA, IDAEA and UAB, and Geologica Acta must be cited for any partial or full reproduction.
The opinions and conclusions stated in each article are the exclusive responsability of the authors and do not necessarily coincide with those of the above mentioned institutions UB, ICTJA, IDAEA and UAB.
Author Rights
Authors retain the copyright on their papers (accepted manuscript, uncorrected proof and published paper) and are authorized to post them on their own Web page or their institutional repositories. In all cases, the complete citation and a link to the Digital Object Identifier (DOI) of the article must be included.
The authors can use excerpts or reproduce illustrations of their papers in other works without prior permission of Geologica Acta provided the source of the paper including the complete citation is fully acknowledged.
Papers are distributed under the Attribution-Share Alike Creative Commons License. This license allows others to alter, remix or build upon a paper and the resulting work may be distributed under the same or similar license to this one.