The southernmost evidence for an interglacial transgression (Sangamon?) in South America. First record of upraised Pleistocene marine deposits in Isla Navarino (Beagle Channel, Southern Chile)
Keywords:
Interglacial, Marine beach shell deposits, Mollusks, Tierra del Fuego, Southernmost South America
Abstract
Marine beach shell deposits recording a pre-Holocene marine transgression have been found at the southern shore of the Beagle Channel, Isla Navarino, Chile. These shelly deposits were dated by AMS at 41,700 14C years B.P., which clearly indicates a Pleistocene age. A sample of wood underlying the marine deposits yielded an infinite age (gt;46.1 14C ka B.P.). If the date on the shells is considered as a minimum, infinite age, together with the elevation of these marine units above present mean tide sea level (at least 10 m a.s.l.) they may be considered as deposited during the Last Interglacial, of Sangamon age (Marine Isotope Stage -MIS- 5e) or during a younger phase of MIS 5. The fossil content of this unit is similar to the fauna living in this region today, supporting also an Interglacial palaeoenvironment interpretation. If this interpretation and the dating proposal are correct, this is the first reported record of Sangamon deposits in the Beagle Channel and the southernmost Last Interglacial site (MIS 5) in South America.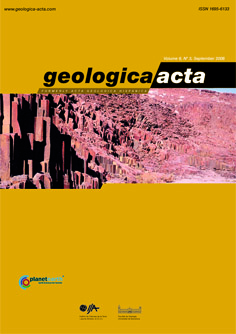 Downloads
License
This work is licensed under a Creative Commons Attribution-ShareAlike 4.0 International License.
Copyright
Geologica Acta is the property of the UB, GEO3BCN, IDAEA and UAB. Geologica Acta must be cited for any partial or full reproduction. Papers are distributed under the Attribution-Share Alike Creative Commons License. This license allows anyone to reproduce and disseminate the content of the journal and even make derivative works crediting authorship and provenance and distributing possible derivative works under the same or an equivalent license.
Author Rights
Authors retain the copyright on their papers and are authorized to post them on their own web pages or institutional repositories. The copyright was retained by the journal from the year 2003 until 2009. In all cases, the complete citation and a link to the Digital Object Identifier (DOI) of the article must be included. 
The authors can use excerpts or reproduce illustrations of their papers in other works without prior permission from Geologica Acta provided the source of the paper including the complete citation is fully acknowledged.