Dating the Triassic continental rift in the southern Andes: the Potrerillos Formation, Cuyo Basin, Argentina
Keywords:
Triassic, Cuyo Basin, Argentina, U-Pb zircon dating
Abstract
The Triassic successions of western Argentina commonly show thin pyroclastic levels intercalated within thick fluvial and lacustrine terrigenous deposits. The Potrerillos Formation is the thickest Triassic unit in the Cuyo Basin. It is composed of alternating cycles of gravelly- sandy- and muddy-dominated intervals, in which several laterally-continuous tuff horizons occur. U-Pb SHRIMP ages were determined on zircon grains from three tuff levels located between the lowermost and the middle sections of the Potrerillos Formation. The ages for the time of deposition of the tuffs are 239.2 ± 4.5 Ma, 239.7 ± 2.2 Ma and 230.3 ± 2.3 Ma (Middle Triassic). Chemical data indicate that these acid to intermediate volcaniclastic rocks are derived from coeval basic magmas displaying tholeiitic to slightly alkaline signatures. They are associated with the rift stage that followed the extensive post-orogenic volcanism of the Choiyoi Group, that in turn has been ascribed to slab break-off in neighbouring areas. Two of the studied samples also record a subpopulation of inherited zircon grains with crystallisation ages of 260-270 Ma. The latter are considered to be an indirect measurement for the age of the Choiyoi Group in the Cuyo basin. The rift-related Triassic event represents the culmination of the Gondwanian magmatic cycle, and is interpreted as the result of subduction cessation and anomalous heating of the upper mantle previous to the western Gondwana break-up.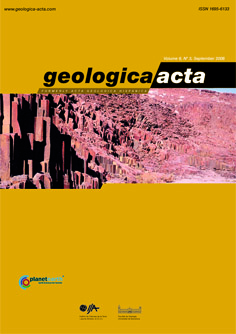 Downloads
License
This work is licensed under a Creative Commons Attribution-ShareAlike 4.0 International License.
Copyright
Geologica Acta is the property of the UB, GEO3BCN, IDAEA and UAB. Geologica Acta must be cited for any partial or full reproduction. Papers are distributed under the Attribution-Share Alike Creative Commons License. This license allows anyone to reproduce and disseminate the content of the journal and even make derivative works crediting authorship and provenance and distributing possible derivative works under the same or an equivalent license.
Author Rights
Authors retain the copyright on their papers and are authorized to post them on their own web pages or institutional repositories. The copyright was retained by the journal from the year 2003 until 2009. In all cases, the complete citation and a link to the Digital Object Identifier (DOI) of the article must be included. 
The authors can use excerpts or reproduce illustrations of their papers in other works without prior permission from Geologica Acta provided the source of the paper including the complete citation is fully acknowledged.