Early Paleogene climate at mid latitude in South America: Mineralogical and paleobotanical proxies from continental sequences in Golfo San Jorge basin (Patagonia, Argentina)
Keywords:
Paleocene-Eocene, Clay Minerals, Fossil Woods, Phytoliths, Paleoclimatic proxies
Abstract
The Paleocene-Eocene boundary was a period of transient and intense global warming that had a deep effect on middle and high latitude plant groups. Nevertheless, only scarce early Paleogene paleoclimatic records are known from the South American continental sequences deposited at these latitudes. In this contribution clay mineralogy and paleobotanical analyses (fossil woods and phytoliths) were used as paleoclimate proxies from the lower and middle parts of the Río Chico Group (Golfo San Jorge basin, Patagonia, Argentina). These new data may enable to understand the changing climatic conditions during part of the Paleocene-Eocene transition. In this setting, three clay mineral assemblages were identified: S1 assemblage (smectite) dominates the Peñas Coloradas Formation; S2 assemblage (smectitegt;kaolinite) occurs in the stratigraphic transition to the Las Flores Formation; and S3 assemblage (kaolinitegt;smectite) dominates the Las Flores Formation. These trend of change in the detrital clay mineral composition is interpreted as resulting mainly from the changing paleoclimatic conditions that shifted from seasonal warm temperate to tropical affecting the same source area lithology. Moreover, the paleobotanical data suggest that the Early Paleogene vegetation in the Golfo San Jorge basin underwent significant composition and diversity changes, ranging from mixed temperate - subtropical forest to mixed subtropical - tropical, humid forest. The integrated analysis of the clay mineral composition and the palaeobotanical assemblages suggests that, in central Argentinean Patagonia, the Paleocene-Eocene climate changed from temperate warm, humid and highly seasonal precipitation conditions to subtropical-tropical, more continuous year-round rainfall conditions.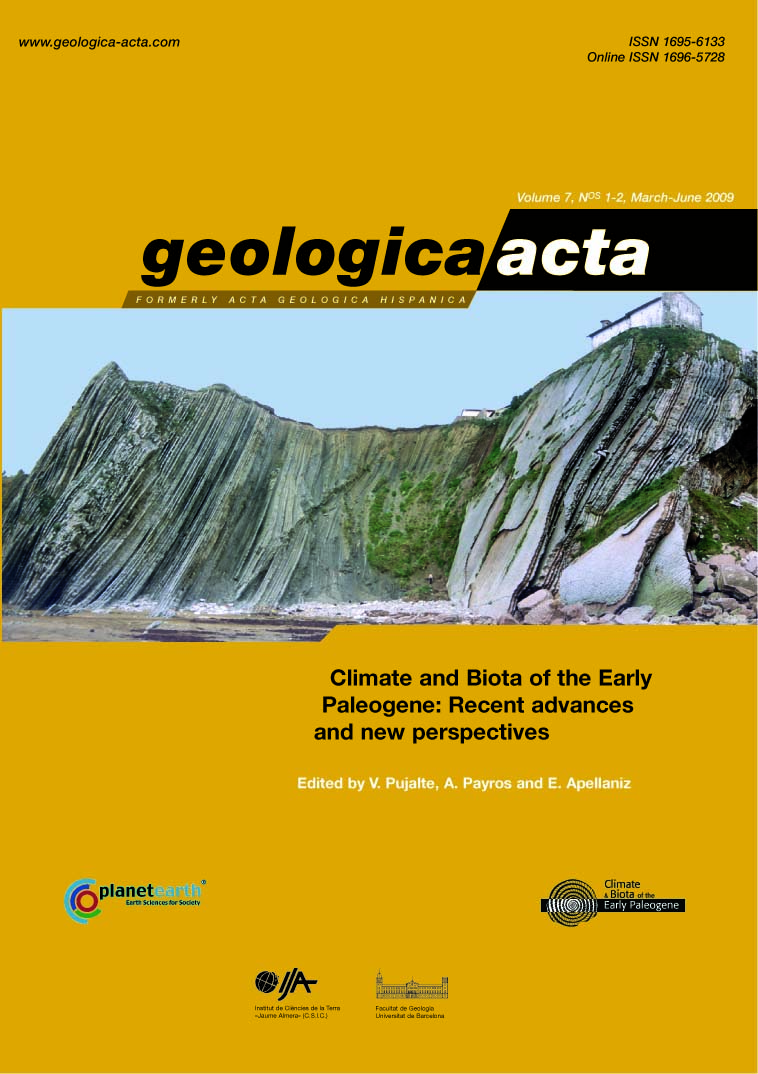 Downloads
License
Copyright
Geologica Acta is the property of the UB, GEO3BCN, IDAEA and UAB. Geologica Acta must be cited for any partial or full reproduction. Papers are distributed under the Attribution-Share Alike Creative Commons License. This license allows anyone to reproduce and disseminate the content of the journal and even make derivative works crediting authorship and provenance and distributing possible derivative works under the same license or an equivalent license.
Author Rights
Authors retain the copyright on their papers and are authorized to post them on their own web pages or institutional repositories. In all cases, the complete citation and a link to the Digital Object Identifier (DOI) of the article must be included.
The authors can use excerpts or reproduce illustrations of their papers in other works without prior permission from Geologica Acta provided the source of the paper including the complete citation is fully acknowledged.