A Danian subtropical lacustrine palynobiota from South America (Bororó Formation, San Jorge Basin, Patagonia - Argentina)
Keywords:
Paleogene, Patagonia, Palynology, Aquatic palynomorphs, Paleoenvironment
Abstract
New results on a lacustrine Danian palynological association in extra-andean northern Patagonia (lower member of the Cerro Bororó Formation, San Jorge Basin, Chubut province, Argentina) are presented. This is a contribution to the largely unexplored field of Paleogene freshwater environments. The palynobiota includes representatives of the kingdoms Protoctista and Plantae. Twelve of the aquatic species are Protoctista. From the nine Chlorophyta form-species, four correspond to Botryococcaceae, one to Coelastraceae and four to Zygnemataceae (Gelasinicysta, Schizosporis, Ovoidites, and Pseudoschizaea). The remaining forms are dinoflagellate cysts (Peridinium and dinocyst indet.) and prasinophyceans (Leiosphaeridia). Plants are represented by spores and pollen of Bryophytes (Sphagnaceae and Ricciaceae), Pteridophytes (Salviniaceae), and Angiosperms (Arecaceae, Araceae and Sparganiaceae/Typhaceae, the latter representing macrophytes living in or near the swampy areas). Other palynomorph groups closely related with biotopes of permanent moisture are dominated by spores of the families Selaginellaceae, Lycopodiaceae, Cyatheaceae, Schizaeaceae, Polypodiaceae and Psilotaceae. The palynological assemblage reflects a freshwater lacustrine environment that developed in a marine coastal zone nearby brackish coastal swamps. Based on the composition of the palynoflora including palm pollen and other thermophilous taxa, humid, warm climatic conditions are inferred for the area of deposition.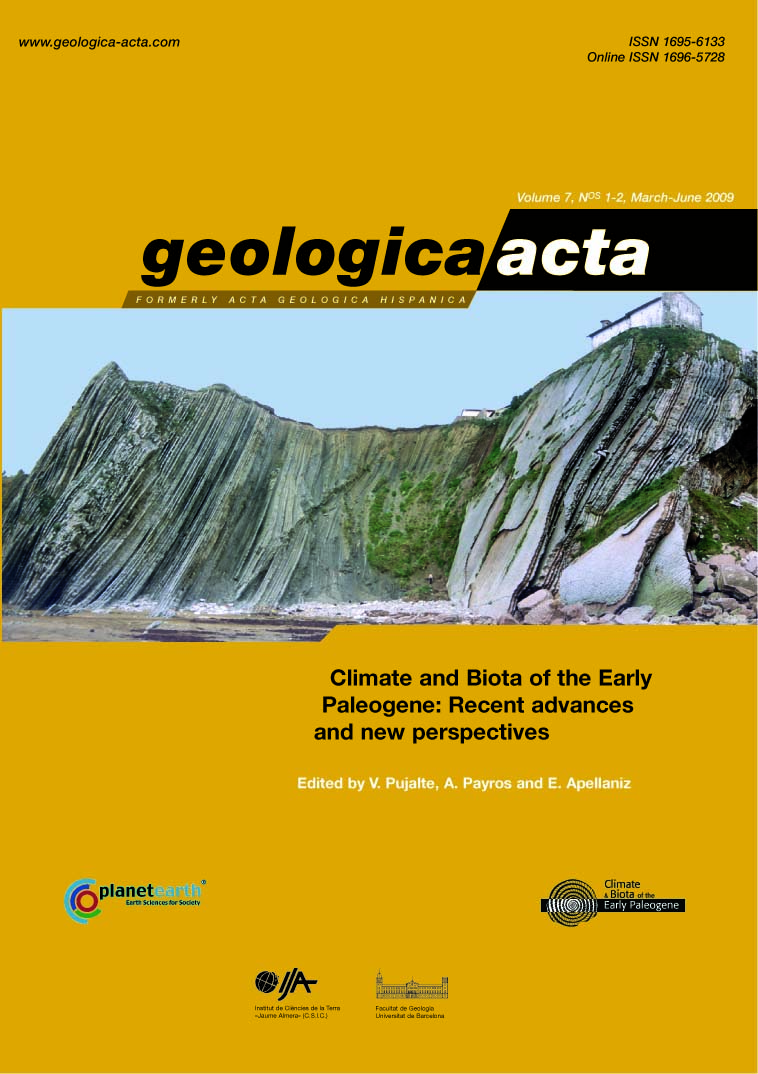 Downloads
License
Copyright
The commercial rights of the printed and online versions of Geologica Acta are property of the UB, ICTJA, IDAEA and UAB, and Geologica Acta must be cited for any partial or full reproduction.
The opinions and conclusions stated in each article are the exclusive responsability of the authors and do not necessarily coincide with those of the above mentioned institutions UB, ICTJA, IDAEA and UAB.
Author Rights
Authors retain the copyright on their papers (accepted manuscript, uncorrected proof and published paper) and are authorized to post them on their own Web page or their institutional repositories. In all cases, the complete citation and a link to the Digital Object Identifier (DOI) of the article must be included.
The authors can use excerpts or reproduce illustrations of their papers in other works without prior permission of Geologica Acta provided the source of the paper including the complete citation is fully acknowledged.
Papers are distributed under the Attribution-Share Alike Creative Commons License. This license allows others to alter, remix or build upon a paper and the resulting work may be distributed under the same or similar license to this one.