Biostratigraphy of the Danian/Selandian transition in the southern Tethys. Special reference to the Lowest Occurrence of planktic foraminifera Igorina albeari
Keywords:
Planktic foraminifera, Calcareous nannofossils, Egypt, Tunisia, Paleocene
Abstract
The P3a/P3b subzonal boundary is delineated by the lowest occurrence of Igorina albeari. Using literature, identification of the first representatives of I. albeari appeared to be very confusing. In this study descriptions of I. albeari are compared and a consistent definition is proposed. Igorinid specimens with an incipient keel are considered to be I. albeari. Flattening of the last chambers and the fusion of muricae on the peripheral margin may indicate such a slight keel. This keel enables an unambiguous distinction between I. pusilla and the first form of I. albeari and is in keeping with the original descriptions without introducing an intermediate species. In the southern Tethys, the lowest occurrence of I. albeari occurs just prior to the pinkish-brown marl bed in Egypt and immediately overlies the glauconitic bed in Tunisia. Furthermore, the NTp7A/NTp7B subzonal boundary, delineated by the lowest occurrence of Chiasmolithus edentulus, is in close correlation with these marker beds. In Egypt C. edentulus appears 1 m below the entry of I. albeari, whereas in Tunisia they coappear. This implies significant erosion at the glauconitic bed in the studied parts of the Tunisian Trough and a more complete succession at the dark-brown marl bed in the Nile Valley. These marker beds can also be correlated to a level of minor lithologic change in the upper part of the Danian Limestone Formation in the Zumaia section through the lowest occurrence of Chiasmolithus edentulus. The distinct lithologic change in Zumaia, from the Danian Limestone to the Itzurun Formation, however, appears to be ~600 kyr younger than what we now call upper Danian event beds, in Tunisia and Egypt.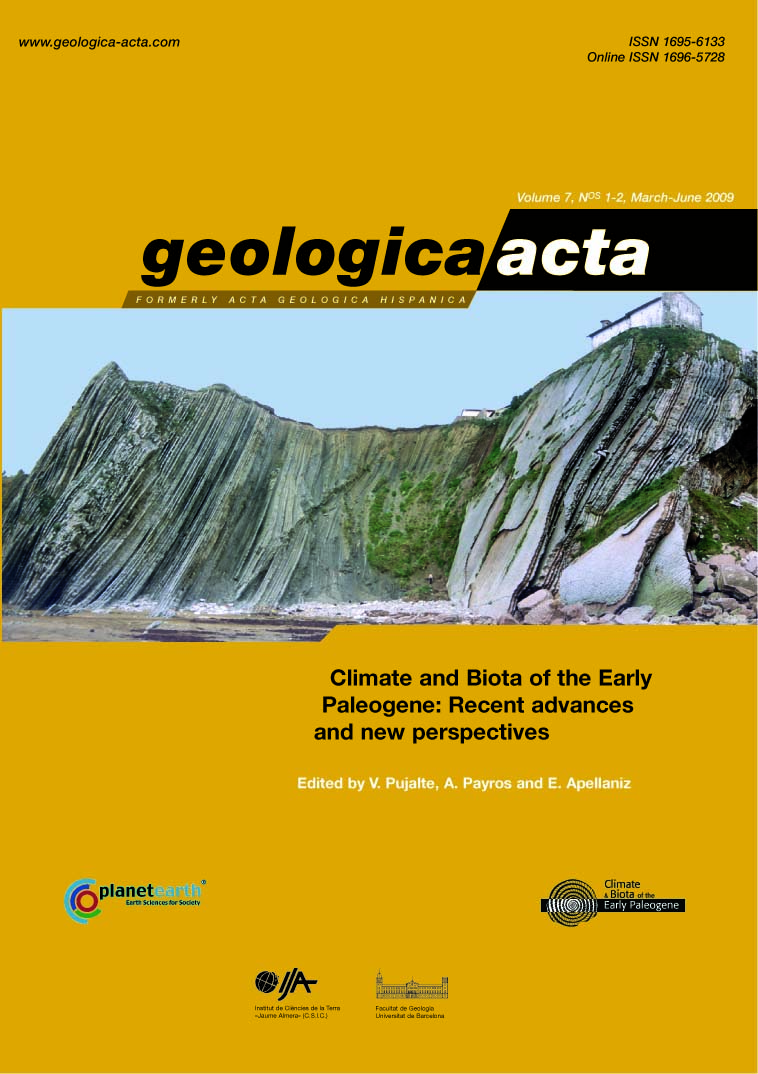 Downloads
License
Copyright
The commercial rights of the printed and online versions of Geologica Acta are property of the UB, ICTJA, IDAEA and UAB, and Geologica Acta must be cited for any partial or full reproduction.
The opinions and conclusions stated in each article are the exclusive responsability of the authors and do not necessarily coincide with those of the above mentioned institutions UB, ICTJA, IDAEA and UAB.
Author Rights
Authors retain the copyright on their papers (accepted manuscript, uncorrected proof and published paper) and are authorized to post them on their own Web page or their institutional repositories. In all cases, the complete citation and a link to the Digital Object Identifier (DOI) of the article must be included.
The authors can use excerpts or reproduce illustrations of their papers in other works without prior permission of Geologica Acta provided the source of the paper including the complete citation is fully acknowledged.
Papers are distributed under the Attribution-Share Alike Creative Commons License. This license allows others to alter, remix or build upon a paper and the resulting work may be distributed under the same or similar license to this one.