New high resolution calcareous nannofossil analysis across the Danian / Selandian transition at the Zumaia section: comparison with South Tethys and Danish sections
Keywords:
Danian/Selandian, Biostratigraphy, Calcareous nannofossil, Zumaia section
Abstract
A high resolution calcareous nannofossil biostratigraphic analysis was carried out across the Danian/Selandian transition at the Zumaia section (western Pyrenees). In the studied interval, spanning Varol's Subzone NTp7a to Zone NTp9, a sequence of 10 distinct calcareous nannofossil events is identified. The recognition of these bioevents confirms the continuous and expanded character of the Zumaia section and allows an accurate biostratigraphic correlation of the D/S transition between Zumaia, the Danish reference sections and the more southerly Tethys sections. According to this correlation, the abrupt transition from the upper Danian limestones (the calcisiltite unit) to the Lellinge Greensand that marks the D/S boundary in the type area correlates with the lithological change from the Aitzgorri Limestone Formation to the Itzurun Formation in Zumaia. The calcareous nannofossil bioevents recorded in connection with the organic-rich layer used to mark the base of the Selandian in the Tethys region were detected in Zumaia ~10 m below the top of the Aitzgorri Limestone Formation. This finding suggests that the organic-rich layer is considerably older than the Danian/Selandian (D/S) boundary at Zumaia and the type area, and thus using it to mark the D/S boundary in Tethys is not appropriate. According to a counting of limestone/marl couplets, which are demonstrated to be the stratigraphic expression of precession cycles throughout the Zumaia section, the organic-rich layer in the Tethys region is ~546 kyr older than the D/S boundary at the type area.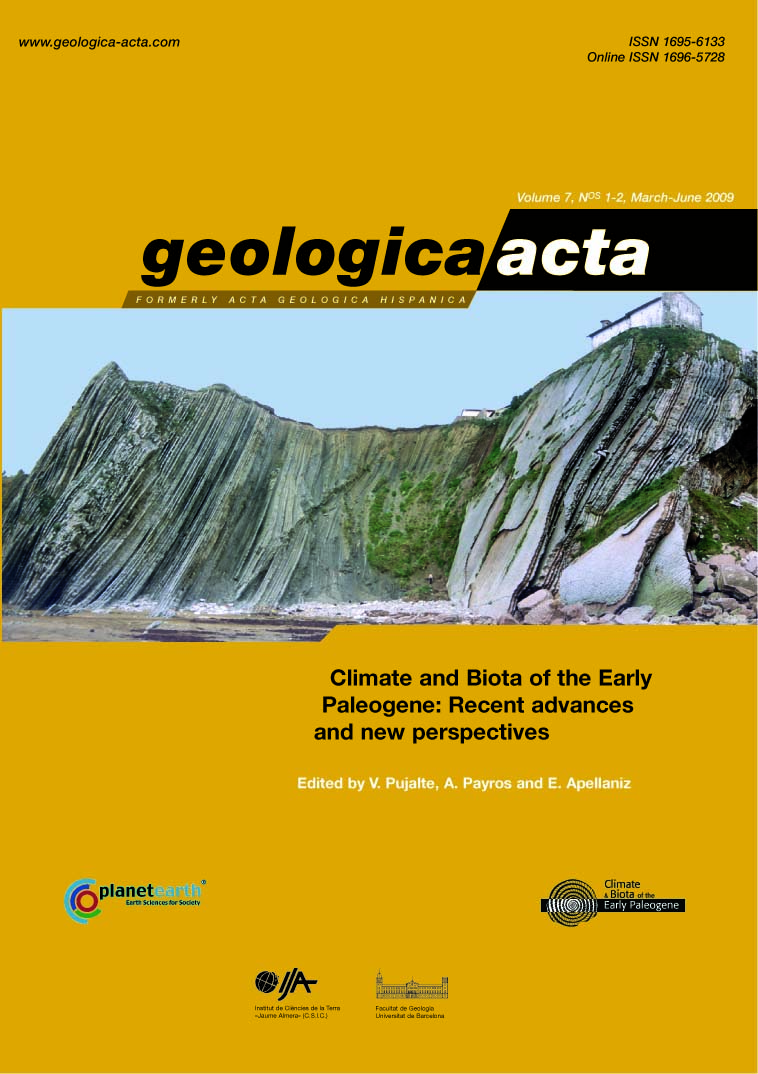 Downloads
License
Copyright
The commercial rights of the printed and online versions of Geologica Acta are property of the UB, ICTJA, IDAEA and UAB, and Geologica Acta must be cited for any partial or full reproduction.
The opinions and conclusions stated in each article are the exclusive responsability of the authors and do not necessarily coincide with those of the above mentioned institutions UB, ICTJA, IDAEA and UAB.
Author Rights
Authors retain the copyright on their papers (accepted manuscript, uncorrected proof and published paper) and are authorized to post them on their own Web page or their institutional repositories. In all cases, the complete citation and a link to the Digital Object Identifier (DOI) of the article must be included.
The authors can use excerpts or reproduce illustrations of their papers in other works without prior permission of Geologica Acta provided the source of the paper including the complete citation is fully acknowledged.
Papers are distributed under the Attribution-Share Alike Creative Commons License. This license allows others to alter, remix or build upon a paper and the resulting work may be distributed under the same or similar license to this one.