Reconstruction of a latest Paleocene shallow-marine eutrophic paleoenvironment at Sidi Nasseur (Central Tunisia) based on foraminifera, ostracoda, calcareous nannofossils and stable isotopes (d<sup>13</sup>C, d<sup>18</sup>O)
Keywords:
Stratigraphy, Benthic foraminifera, Ostracoda, Calcareous nannofossils, Inner neritic, Coastal, Stable isotopes
Abstract
In order to unravel faunal and paleoenvironmental parameters in shallow marine settings prior to the Paleocene- Eocene thermal maximum, we investigated the Sidi Nasseur section (NAS) in Central Tunisia. This section exposes Paleocene to lower Eocene shales and marls of the El Haria Formation. The uppermost Paleocene part of the Sidi Nasseur section is marked by poor to moderately rich, but fairly diversified nannofossil associations, containing the typical latest Paleocene taxa of the top of NP9a. The ostracode record displays an almost continuous record in the uppermost Paleocene part of the section. Representatives of Aegyptiana, Paracosta, Reticulina and Reymenticosta make up the major part of the ostracode fauna. The benthic foraminiferal assemblage consists of numerous small calcareous benthic foraminifera, like Anomalinoides midwayensis and Lenticulina spp. and many large Frondicularia phosphatica, Pyramidulina spp. These, together with the non-calcareous agglutinated foraminifera and the rare planktic foraminifera, indicate an inner neritic to coastal environment with eutrophic conditions, regularly interrupted by oxygen deficiency. The dominance of non-calcareous benthic foraminifera between intervals with abundant calcareous benthic foraminifera suggests post-mortem dissolution. The foraminiferal d<sup>13</sup>C record (based upon Pyramidulina latejugata) of the latest Paleocene in the Sidi Nasseur area is very similar to these from coeval sediments at Gebel Duwi and Gebel Aweina in Egypt. Oxygen isotopic ratios indicate a marine setting with a water composition affected by evaporation. During the latest Paleocene, the highly productive shallow water environment evolved to shallower water depths with higher salinity and increasing dominance of A. midwayensis.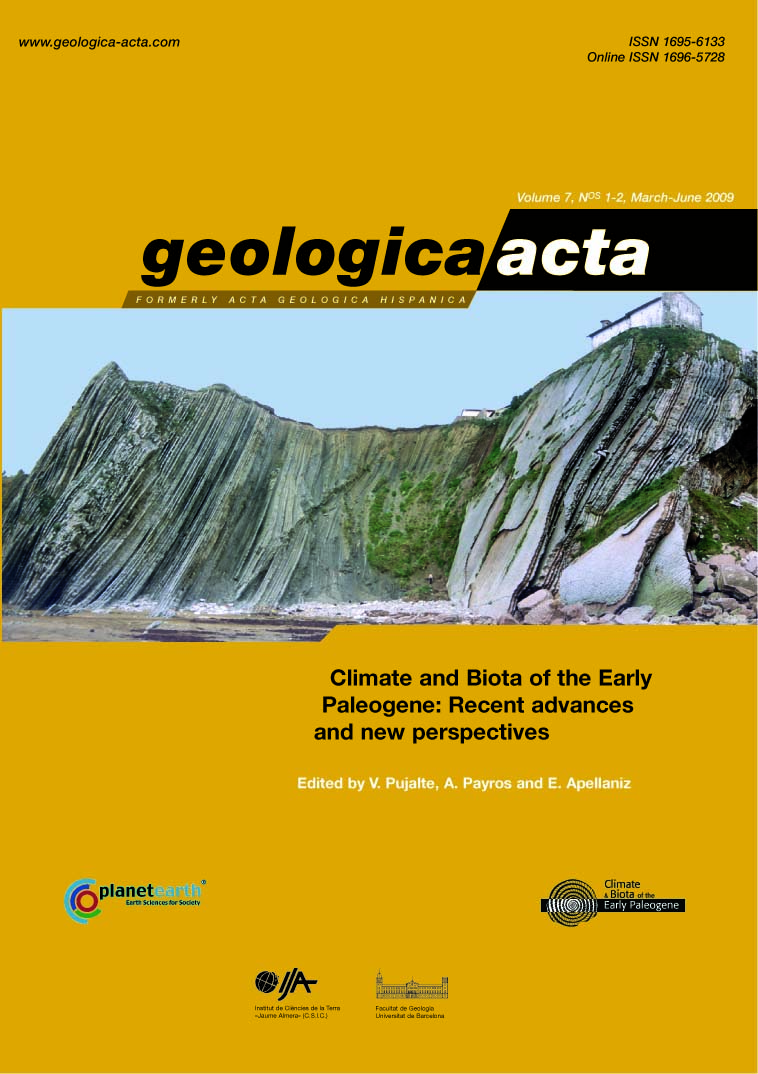 Downloads
License
Copyright
The commercial rights of the printed and online versions of Geologica Acta are property of the UB, ICTJA, IDAEA and UAB, and Geologica Acta must be cited for any partial or full reproduction.
The opinions and conclusions stated in each article are the exclusive responsability of the authors and do not necessarily coincide with those of the above mentioned institutions UB, ICTJA, IDAEA and UAB.
Author Rights
Authors retain the copyright on their papers (accepted manuscript, uncorrected proof and published paper) and are authorized to post them on their own Web page or their institutional repositories. In all cases, the complete citation and a link to the Digital Object Identifier (DOI) of the article must be included.
The authors can use excerpts or reproduce illustrations of their papers in other works without prior permission of Geologica Acta provided the source of the paper including the complete citation is fully acknowledged.
Papers are distributed under the Attribution-Share Alike Creative Commons License. This license allows others to alter, remix or build upon a paper and the resulting work may be distributed under the same or similar license to this one.