An anachronistic Clarkforkian mammal fauna from the Paleocene Fort Union Formation (Great Divide Basin, Wyoming, USA)
Keywords:
Clarkforkian, Paleocene-Eocene boundary, Paleoclimatology, Global warming
Abstract
The Clarkforkian (latest Paleocene) North American Land Mammal Age (NALMA) remains a relatively poorly sampled biostratigraphic interval at the close of the Paleocene epoch that is best known from the Bighorn Basin of northwestern Wyoming. A period of global warming between the cooler early and middle Paleocene and the extreme warming of the early Eocene, the Clarkforkian witnessed significant floral and faunal turnover with important ramifications for the development of Cenozoic biotas. The combination of warming global climates with mammalian turnover (including likely intercontinental dispersals) marks the Clarkforkian and the succeeding Wasatchian (Earliest Eocene) NALMAs as periods of intense interest to paleobiologists and other earth scientists concerned with aspects of biostratigraphy and with the biotic effects of climate change in the past. In this paper we describe a new Clarkforkian mammalian fauna from the Great Divide Basin of southwestern Wyoming with some surprising faunal elements that differ from the typical suite of taxic associations found in Clarkforkian assemblages of the Bighorn Basin. Several different scenarios are explored to explain this "anachronistic" assemblage of mammals from southern Wyoming in relation to the typical patterns found in northern Wyoming, including the concepts of basin-margin faunas, latitudinal and climatic gradients, and a chronologically transitional fauna. We suggest that the observed faunal and biostratigraphic differences between southern and northern Wyoming faunas most likely result from latitudinal and associated climatic differences, with floral and faunal changes being reflected somewhat earlier in the south during this period of marked climate change.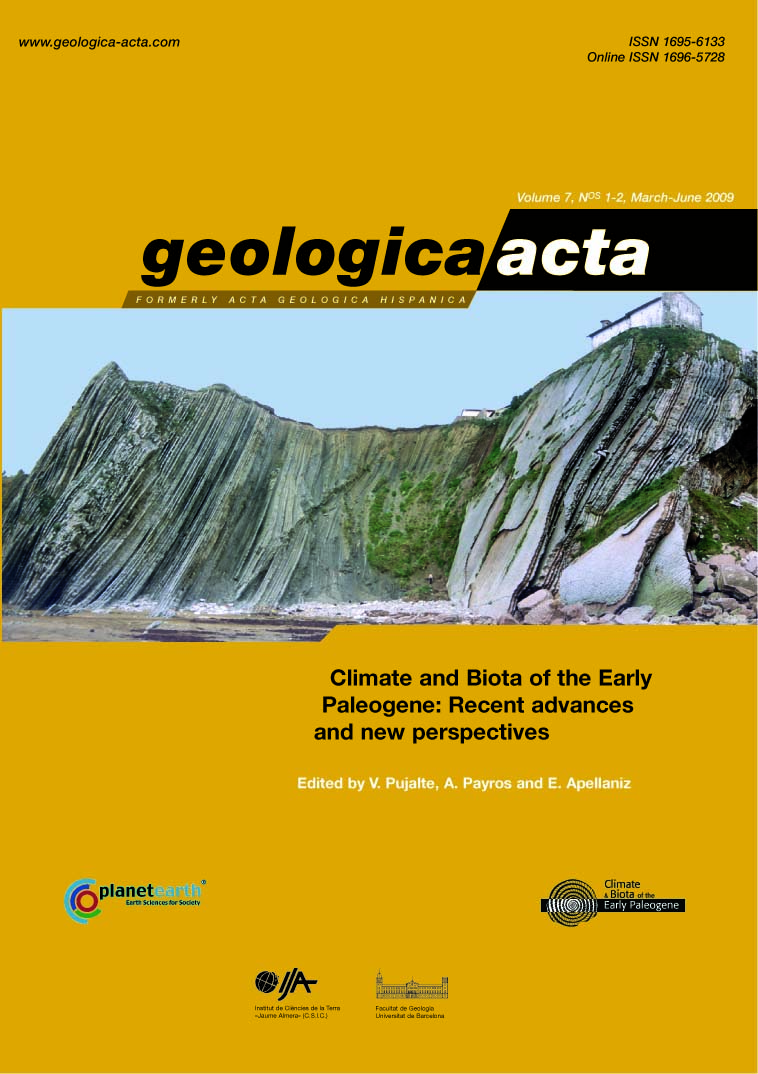 Downloads
License
Copyright
Geologica Acta is the property of the UB, GEO3BCN, IDAEA and UAB. Geologica Acta must be cited for any partial or full reproduction. Papers are distributed under the Attribution-Share Alike Creative Commons License. This license allows anyone to reproduce and disseminate the content of the journal and even make derivative works crediting authorship and provenance and distributing possible derivative works under the same license or an equivalent license.
Author Rights
Authors retain the copyright on their papers and are authorized to post them on their own web pages or institutional repositories. In all cases, the complete citation and a link to the Digital Object Identifier (DOI) of the article must be included.
The authors can use excerpts or reproduce illustrations of their papers in other works without prior permission from Geologica Acta provided the source of the paper including the complete citation is fully acknowledged.