Palynology of Lower Palaeogene (Thanetian-Ypresian) coastal deposits from the Barmer Basin (Akli Formation, Western Rajasthan, India): Palaeoenvironmental and palaeoclimatic implications
Keywords:
Mangrove pollen, Nypa, Thanetian-Ypresian, India
Abstract
The 32-m thick sedimentary succession of the Paleocene-Eocene Akli Formation (Barmer basin, Rajasthan, India), which is exposed in an open-cast lignite mine, interbed several lignite seams that alternate with fossiliferous carbonaceous clays, green clays and widespread siderite bands and chert nodules. The palynofloral assemblages consist of spore, pollen and marine dinoflagellate cysts that indicate a Thanetian to Ypresian age. The assemblage is dominated by angiospermic pollen and specimens showing affinity with the mangrove Palm Nypa are also very abundant. The Nypa-like pollen specimens exhibit a wide range of morphological variation, some of the recorded morphotypes being restricted to this Indian basin. Preponderance of these pollen taxa indicates that the sediments were deposited in a coastal swamp surrounded by thick, Nypa-dominated mangrove vegetation. The dispersed organic matter separated from macerated residues indicates the dominance of anoxic conditions throughout the succession, although a gradual transition to oxic conditions is recorded in the upper part.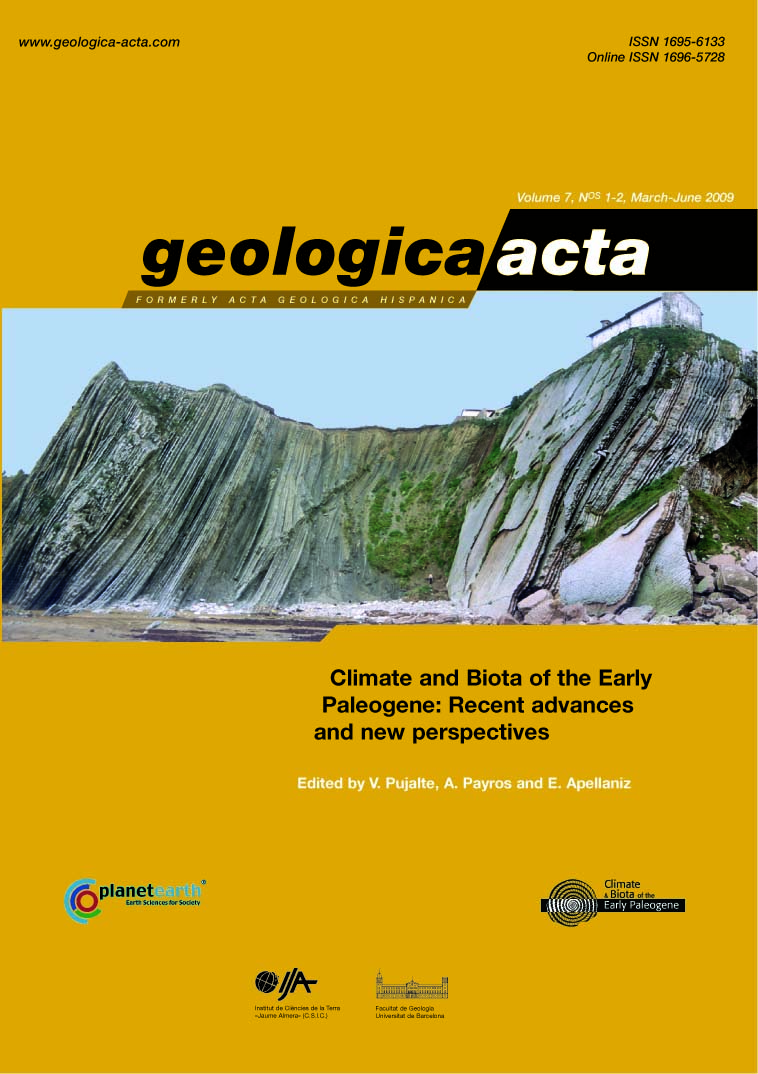 Downloads
License
This work is licensed under a Creative Commons Attribution-ShareAlike 4.0 International License.
Copyright
Geologica Acta is the property of the UB, GEO3BCN, IDAEA and UAB. Geologica Acta must be cited for any partial or full reproduction. Papers are distributed under the Attribution-Share Alike Creative Commons License. This license allows anyone to reproduce and disseminate the content of the journal and even make derivative works crediting authorship and provenance and distributing possible derivative works under the same or an equivalent license.
Author Rights
Authors retain the copyright on their papers and are authorized to post them on their own web pages or institutional repositories. The copyright was retained by the journal from the year 2003 until 2009. In all cases, the complete citation and a link to the Digital Object Identifier (DOI) of the article must be included. 
The authors can use excerpts or reproduce illustrations of their papers in other works without prior permission from Geologica Acta provided the source of the paper including the complete citation is fully acknowledged.