Integrated calcareous nannofossil biostratigraphy and magnetostratigraphy from the uppermost marine Eocene deposits of the southeastern Pyrenean foreland basin: evidences for marine Priabonian deposition
Keywords:
Late Eocene, Magnetostratigraphy, Biostratigraphy, Calcareous Nannofossils, Pyrenean basin
Abstract
An integrated magneto-biostratigraphic study, based on calcareous nannofossils, was carried out on the Eocene uppermost marine deposits of the southeastern Pyrenean foreland basin. The study was performed along six sections of the upper portion of Igualada Formation, cropping out in the Vic area. Common late Middle/Upper Eocene nannofossil assemblages allow recognizing, within a normal magnetozone or immediately below, the FO of Istmolithus recurvus, which identifies the base of NP19 Zone, in the Priabonian. This event occurs within C16n.2n magnetozone in several oceanic and Mediterranean sections, which allows the correlation of the normal magnetozone in the Vic area to chron C16n.2n. This challenges previous magnetostratigraphic interpretations in the Vic area that correlated the uppermost marine sediments to chron C17n. The estimated age for the FO of I. recurvus is 36 Ma and collectively with the magnetostratigraphic data indicates that the uppermost marine sediments in the basin are of Priabonian age. The new results indicate that the entire chronology of the marine strata needs reassessment. The thickness of chron C16n.2n varies from 45 m in the Collsuspina area (southern sector) to about 270-290 m in the Sant Bartomeu del Grau area (northern sector), which is indicative of a marked asymmetry in the basin deposition.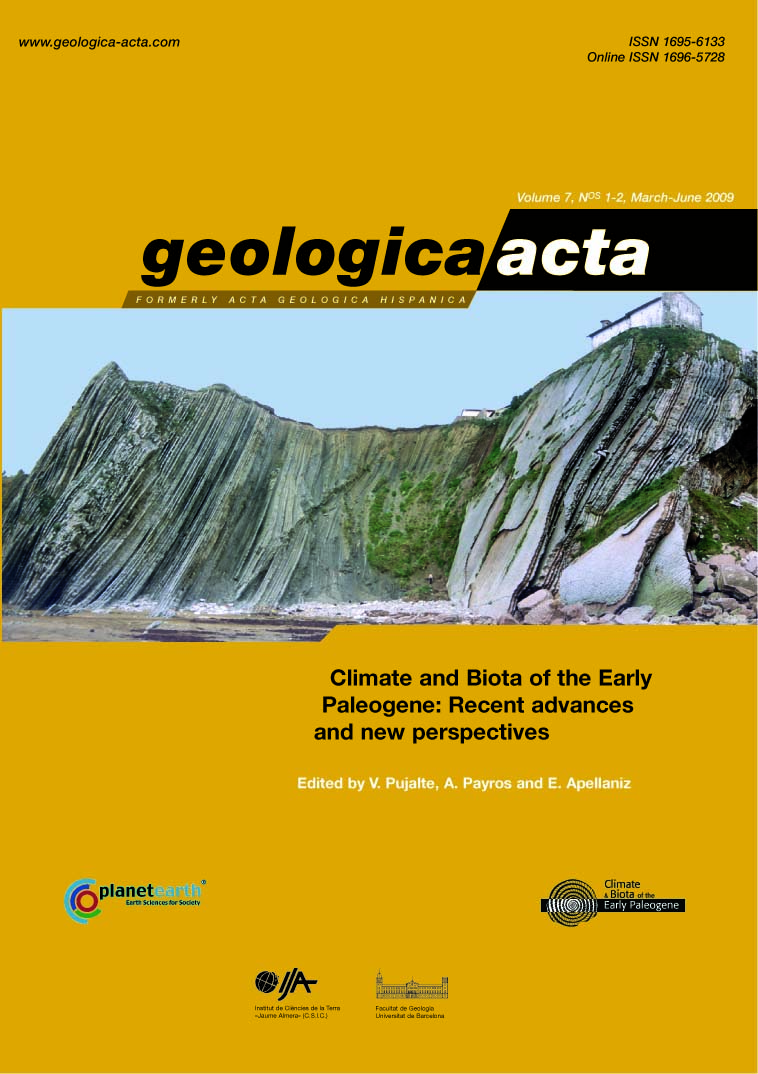 Downloads
License
Copyright
Geologica Acta is the property of the UB, GEO3BCN, IDAEA and UAB. Geologica Acta must be cited for any partial or full reproduction. Papers are distributed under the Attribution-Share Alike Creative Commons License. This license allows anyone to reproduce and disseminate the content of the journal and even make derivative works crediting authorship and provenance and distributing possible derivative works under the same license or an equivalent license.
Author Rights
Authors retain the copyright on their papers and are authorized to post them on their own web pages or institutional repositories. In all cases, the complete citation and a link to the Digital Object Identifier (DOI) of the article must be included.
The authors can use excerpts or reproduce illustrations of their papers in other works without prior permission from Geologica Acta provided the source of the paper including the complete citation is fully acknowledged.