New potential hydrocarbon source-rocks in the Lower Eocene Metlaoui Formation (Central-Northern Tunisia, Northern Africa)
Keywords:
Ypresian, Source Rocks, TOC, Tmax, n-Alkanes, Sub-oxic conditions, Tunisia.
Abstract
New potential hydrocarbon source-rocks in the Lower EoceneMetlaoui Formation (Central-Northern Tunisia, Northern Africa)Significant quantities of organic matter accumulated and were preserved in central-northern Tunisia during theYpresian (Early Eocene). The organic geochemical characterization of the organic-rich facies of the YpresianMetlaoui Formation (Ousselat and Es-Sfeïa sections) shows their significant potential as source rocks andincreases interest in the Central-Northern Tunisia oil play. The TOC content in these rocks ranges from 0.09 to3.71% suggesting their petroleum potential, whereas their T maxfluctuates from 429 to 439°C. These values andthe predominance of the hetero compounds (NSO; 2-95%) point to low organic matter maturation. The diversematurity levels reported for these organic-rich rocks never reached the conventional oil window peak stage andresulted from their different locationswithin the basin. The HI values and the high saturate concentrations(1-91%) compared to aromatics (1-33%), as well as the predominance of short-chain n-alkanes centered at n-C18 and n-C20 are indicative of unequivocal type-II kerogen. The fluctuation of the pristane/phytane ratio(0.97-2.53) records changes of the basin redox conditions, which mainly evolved around the sub-oxic range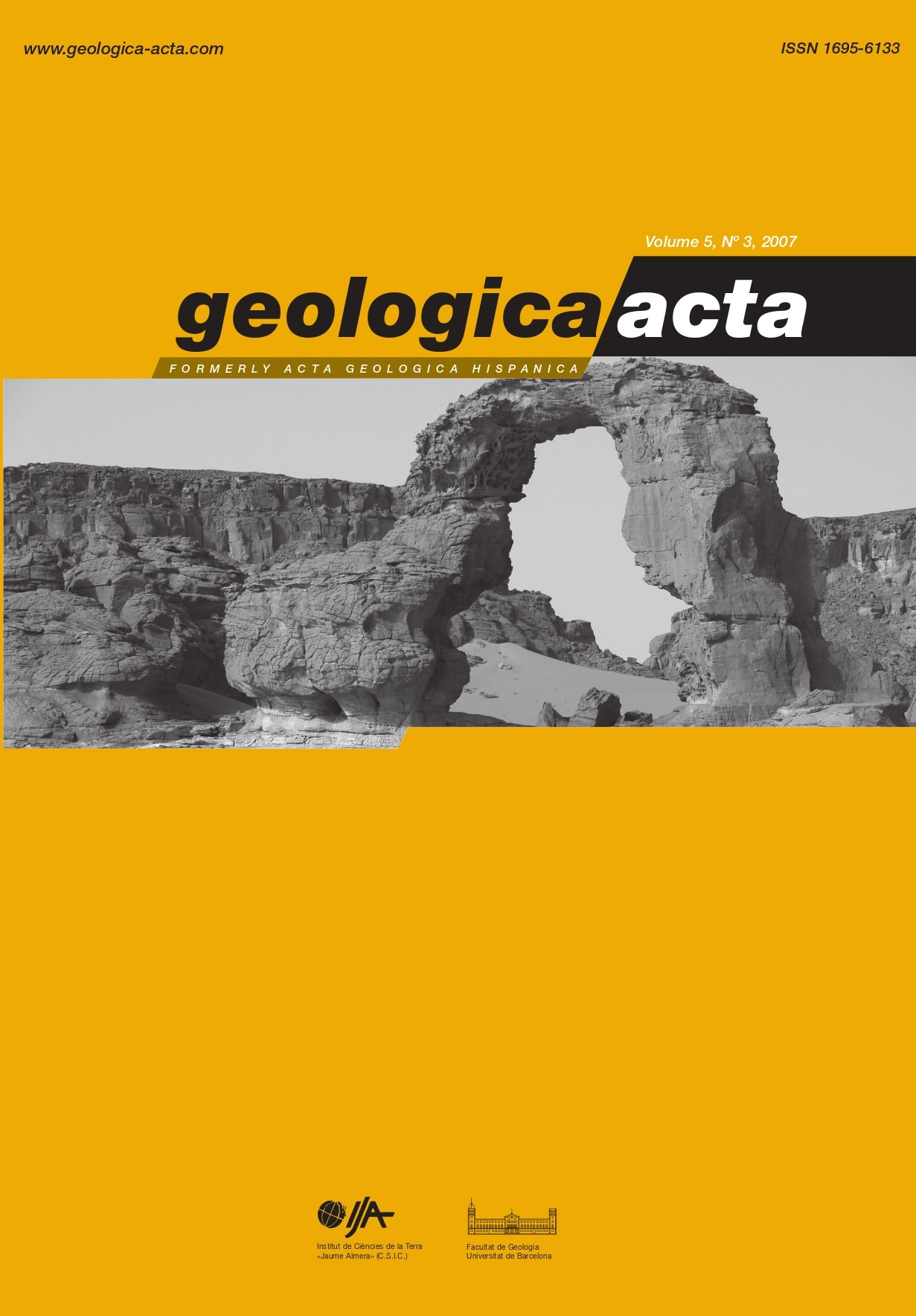 Downloads
License
This work is licensed under a Creative Commons Attribution-ShareAlike 4.0 International License.
Copyright
The commercial rights of the printed and online versions of Geologica Acta are property of the UB, ICTJA, IDAEA and UAB, and Geologica Acta must be cited for any partial or full reproduction.
The opinions and conclusions stated in each article are the exclusive responsability of the authors and do not necessarily coincide with those of the above mentioned institutions UB, ICTJA, IDAEA and UAB.
Author Rights
Authors retain the copyright on their papers (accepted manuscript, uncorrected proof and published paper) and are authorized to post them on their own Web page or their institutional repositories. In all cases, the complete citation and a link to the Digital Object Identifier (DOI) of the article must be included.
The authors can use excerpts or reproduce illustrations of their papers in other works without prior permission of Geologica Acta provided the source of the paper including the complete citation is fully acknowledged.
Papers are distributed under the Attribution-Share Alike Creative Commons License. This license allows others to alter, remix or build upon a paper and the resulting work may be distributed under the same or similar license to this one.