Fifth-order cyclicity and organic matter contents relationship (Lower Eocene, Pyrenees)
Keywords:
Cherty-ostracode facies, Organic geochemistry, Ciclicity, Corones Formation, Eocene.
Abstract
The Upper Limestone Member of the Corones Formation of the Spanish Pyrenees consists of various units (Lower and the Upper Foraminifera Units, Shale Unit, Cherty-ostracode Unit, Ostracode Unit and Chara-ostracode Unit) and offers strong facies and lateral thickness (20 to 80 m) variations. Detailed facies analyses, fifth-order cycles and organic geochemical determinations in the central domain of the Corones platform carbonates (Cherty-ostracode Unit), lower Eocene in age, were carried out to establish a case of close relationship between variations in organic matter productivity and cyclicity with annual period. The Cherty-ostracode Unit displays a continuous and pervasive fifth-order cyclicity, represented by 5 cycles. Each cycle consists of a lower part (mollusc facies) and an upper part (laminated ostracode facies). The calculated fifth-order cycle period ranges from about 17,000 to 28,000 years, which falls within the Milankovitch Band. Variations in organic matter content related to these carbonate cycles have been established. The lower mollusc facies members show a low organic carbon content and Hydrogen Index (HI) below 0.6% in weight and 261, respectively. By contrast, the upper laminated ostracode facies members show high organic carbon contents (up to 2% in weight) and high HI (between 164 and 373), and are also characterized by important silicification processes (the content in chert is up to 30%). The organic geochemistry resulting from these organic rich levels reflects a contribution of algal marine input.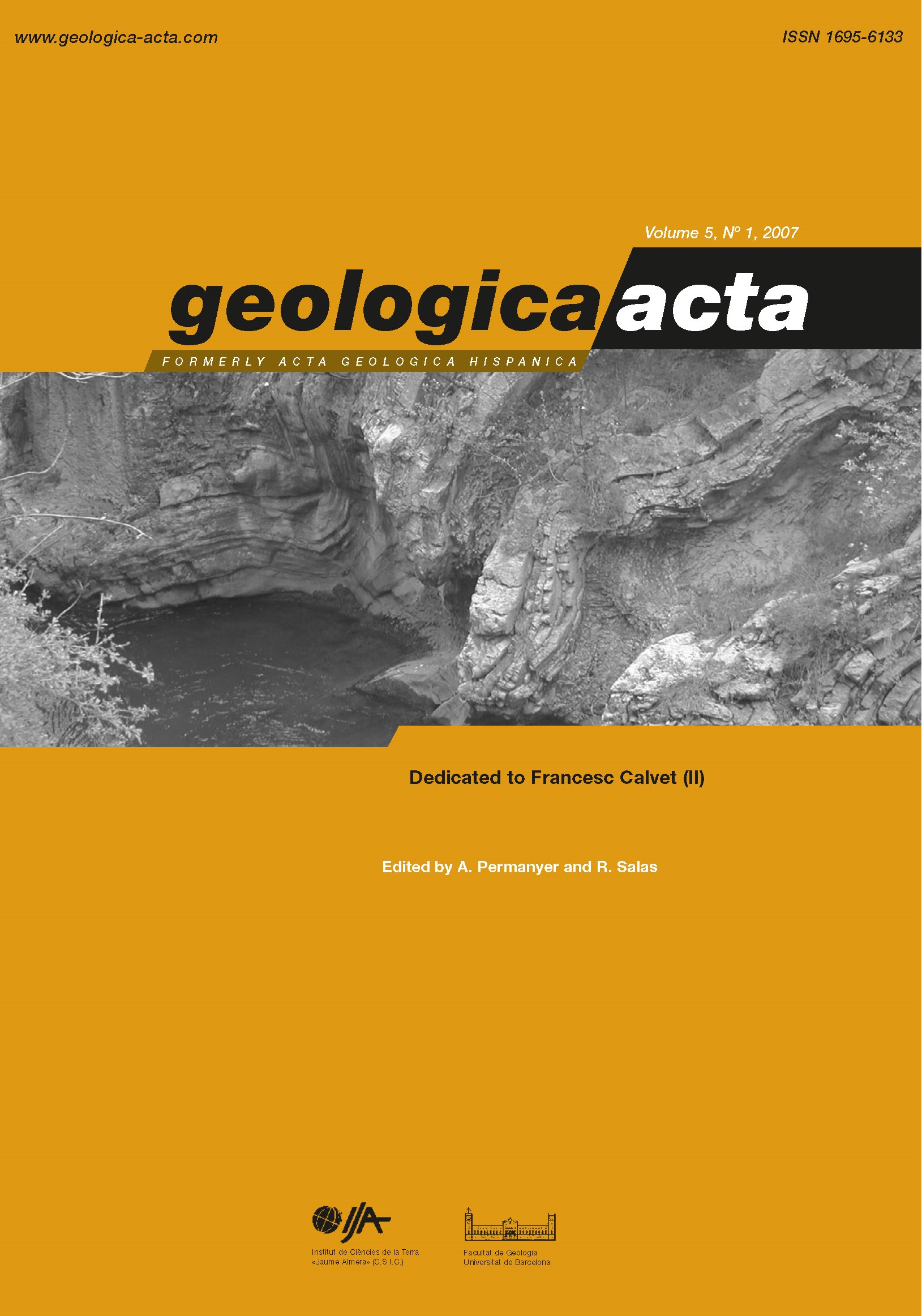 Downloads
License
This work is licensed under a Creative Commons Attribution-ShareAlike 4.0 International License.
Copyright
The commercial rights of the printed and online versions of Geologica Acta are property of the UB, ICTJA, IDAEA and UAB, and Geologica Acta must be cited for any partial or full reproduction.
The opinions and conclusions stated in each article are the exclusive responsability of the authors and do not necessarily coincide with those of the above mentioned institutions UB, ICTJA, IDAEA and UAB.
Author Rights
Authors retain the copyright on their papers (accepted manuscript, uncorrected proof and published paper) and are authorized to post them on their own Web page or their institutional repositories. In all cases, the complete citation and a link to the Digital Object Identifier (DOI) of the article must be included.
The authors can use excerpts or reproduce illustrations of their papers in other works without prior permission of Geologica Acta provided the source of the paper including the complete citation is fully acknowledged.
Papers are distributed under the Attribution-Share Alike Creative Commons License. This license allows others to alter, remix or build upon a paper and the resulting work may be distributed under the same or similar license to this one.