Root calcrete formation on Quaternary karstic surfaces of Grand Cayman
Keywords:
Calcretes, Root, Karst, Cayman Island, The Caribbean, Quaternary.
Abstract
The rugged karst terrain developed on the dolostones of the Miocene Cayman Formation (Fm) on Grand Cayman includes numerous large cavities that formed through the activity of tree roots. The surfaces of those cavities are coated with laminated calcrete crusts up to 8 cm thick that are formed of an alteration zone, an accretionary zone, and final infill of the cavities. These crusts are formed of various laminae, including dolostone with root traces, alveolar septal structures, peloids, micritic and microsparitic laminae, micrite with bioclasts, and pisoliths. Features such as microborings, spores, needle-fiber calcite and micro-rods are common in all parts of the calcrete crust. Calcrete formation was initiated as the roots and associated microorganisms generated the cavities. Later on trapping and binding processes and organically induced precipitation of carbonate allowed the formation of the accretionary (mostly laminar) part of the calcrete. The last phases of crust formation took place when ponded waters filled the cavities. The calcrete crusts developed on the Cayman Formation dolostones record a very specific setting for calcrete formation and constitute a good example of non-horizontal calcrete crusts.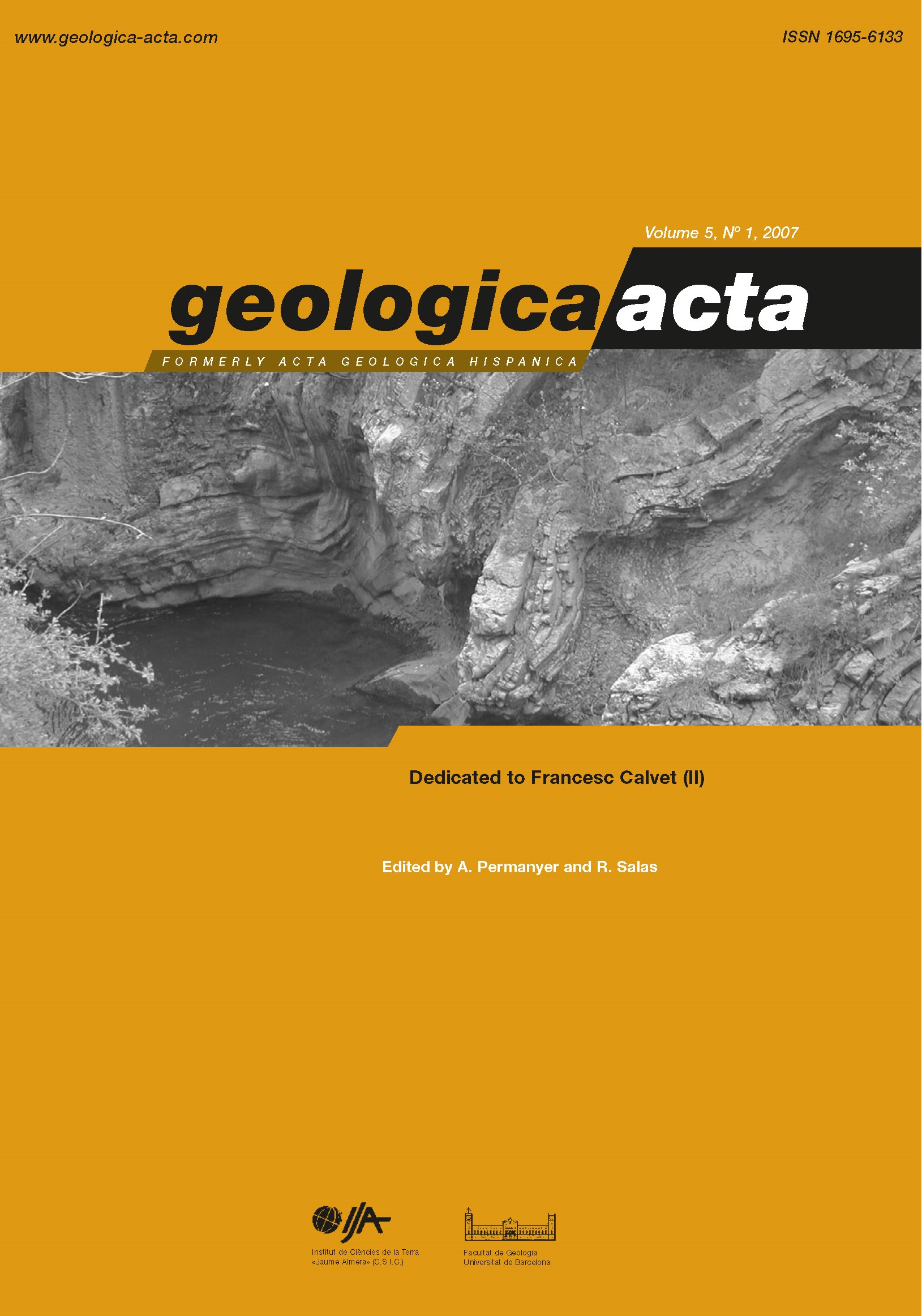 Downloads
License
This work is licensed under a Creative Commons Attribution-ShareAlike 4.0 International License.
Copyright
The commercial rights of the printed and online versions of Geologica Acta are property of the UB, ICTJA, IDAEA and UAB, and Geologica Acta must be cited for any partial or full reproduction.
The opinions and conclusions stated in each article are the exclusive responsability of the authors and do not necessarily coincide with those of the above mentioned institutions UB, ICTJA, IDAEA and UAB.
Author Rights
Authors retain the copyright on their papers (accepted manuscript, uncorrected proof and published paper) and are authorized to post them on their own Web page or their institutional repositories. In all cases, the complete citation and a link to the Digital Object Identifier (DOI) of the article must be included.
The authors can use excerpts or reproduce illustrations of their papers in other works without prior permission of Geologica Acta provided the source of the paper including the complete citation is fully acknowledged.
Papers are distributed under the Attribution-Share Alike Creative Commons License. This license allows others to alter, remix or build upon a paper and the resulting work may be distributed under the same or similar license to this one.