The four phases of plant-arthropod associations in deep time
Keywords:
Plant-insect-association, Herbivory Fossil-record, Land plants, Insects, Paleoclimate.
Abstract
Vascular-plant hosts, their arthropod herbivores, and associated functional feeding groups are distributed spatiotemporally into four major herbivore expansions during the past 420 m.y. They are: (1) a Late Silurian to Late Devonian (60 m.y.) phase of myriapod and apterygote, hexapod (perhaps pterygote) herbivores on several clades of primitive vascular-plant hosts and a prototaxalean fungus; (2) a Late Mississippian to end-Permian (85 m.y.) phase of mites and apterygote and basal pterygote herbivores on pteridophyte and basal gymnospermous plant hosts; (3) a Middle Triassic to Recent (245 m.y.) phase of mites, orthopteroids (in the broadest sense) and hemipteroid and basal holometabolan herbivores on pteridophyte and gymnospermous plant hosts; and (4) a mid Early Cretaceous to Recent (115 m.y.) phase of modern-aspect orthopteroids and derived hemipteroid and holometabolous herbivores on angiospermous plant hosts. These host-plant and herbivore associations are mediated by seven functional feeding groups: a) external foliage feeding, b) piercing-and-sucking, c) boring (Phase 1 origins); d) galling, e) seed predation, f) nonfeeding oviposition (Phase 2 origins); and leaf mining (early Phase 3 origin). Within about 20 m.y. of each herbivore expansion, there is a biota that expresses the nearly full spectrum of later plant-arthropod associations. These four associational phases may be linked to the paleoclimatologic variables of greenhouse/icehouse cycles and atmospheric O2 and CO2 levels by uncertain causes, although some relationship probably is present. The 7 functional feeding groups persist through most of the sampled interval but harbor host-plants and arthropod herbivores that are spatiotemporally ephemeral. Poor understanding of associations in Phases 1 to 3 is attributed to disproportionate focus on the angiosperm and holometabolan insect associations of Phase 4.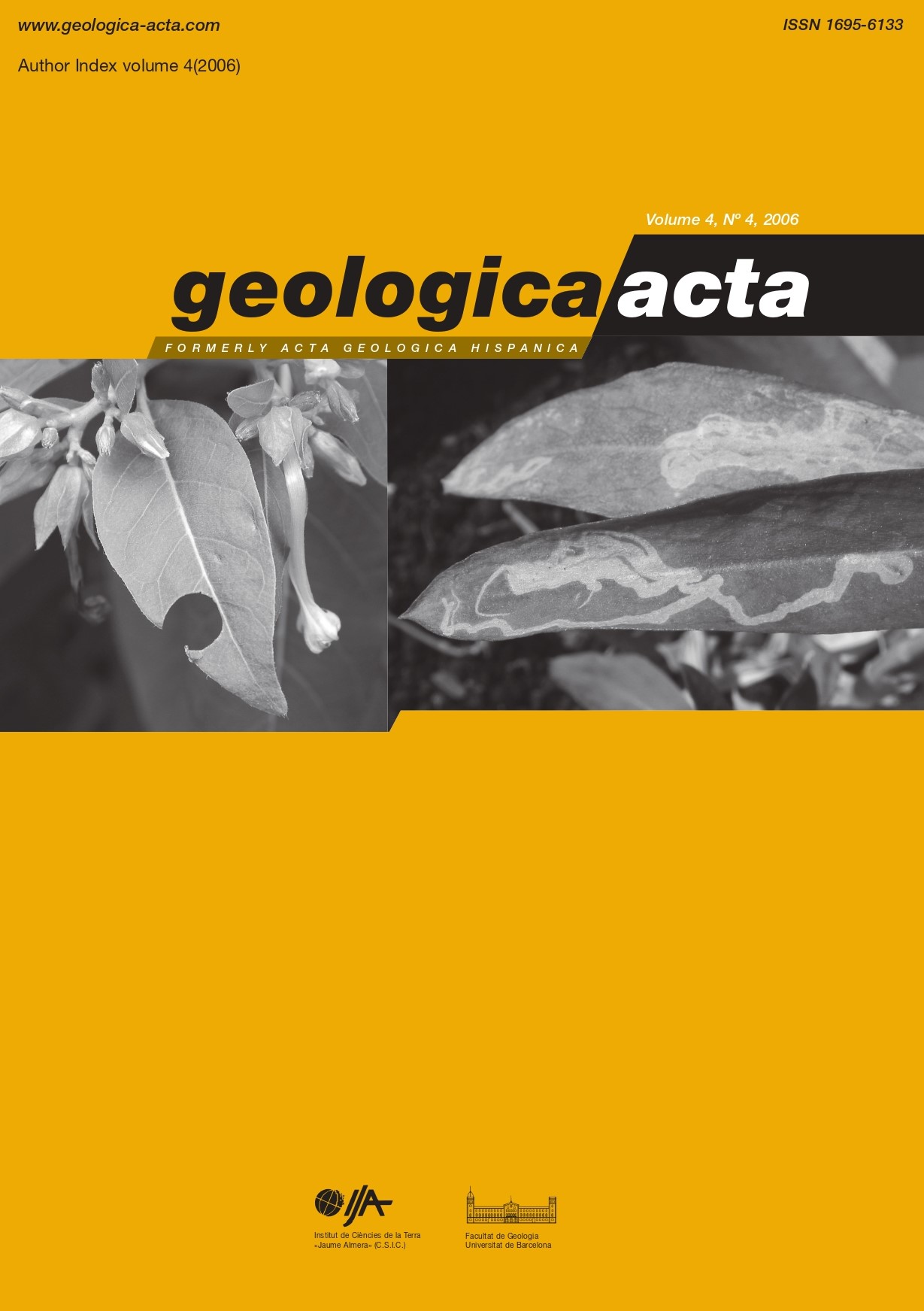 Downloads
License
This work is licensed under a Creative Commons Attribution-ShareAlike 4.0 International License.
Copyright
The commercial rights of the printed and online versions of Geologica Acta are property of the UB, ICTJA, IDAEA and UAB, and Geologica Acta must be cited for any partial or full reproduction.
The opinions and conclusions stated in each article are the exclusive responsability of the authors and do not necessarily coincide with those of the above mentioned institutions UB, ICTJA, IDAEA and UAB.
Author Rights
Authors retain the copyright on their papers (accepted manuscript, uncorrected proof and published paper) and are authorized to post them on their own Web page or their institutional repositories. In all cases, the complete citation and a link to the Digital Object Identifier (DOI) of the article must be included.
The authors can use excerpts or reproduce illustrations of their papers in other works without prior permission of Geologica Acta provided the source of the paper including the complete citation is fully acknowledged.
Papers are distributed under the Attribution-Share Alike Creative Commons License. This license allows others to alter, remix or build upon a paper and the resulting work may be distributed under the same or similar license to this one.