High-frequency carbonate-siliciclastic cycles in the Miocene of the Lorca BASIN (Western Mediterranean, SE Spain)
Keywords:
Mixed carbonates-siliciclastics, Cyclical sedimentation, Sea-level change, Miocene, Spain.
Abstract
The upper Miocene Parilla Formation, Lorca Basin, Spain, provides an example of stacked high-frequency cycles of mixed carbonates and siliciclastics. Cycles developed on a steep carbonate ramp bordering an alluvialfan system. Three cycle variants are distinguished: siliciclastic-dominated cycles at the proximal part of the ramp, mid-ramp mixed carbonate – siliciclastic cycles, and carbonate-dominated cycles on the more distal parts of the ramp. The vertical thickness of these stacked simple sequences ranges from 0.7 up to 8 m. High-frequency changes in relative sea level resulted in a dynamic interplay between terrigenous sediment supply and carbonate production rates. During falling stage and lowstands, the alluvial system migrated basinwards and coarse-grained siliciclastics were deposited, whereas rising sea level and highstands provided optimal conditions for the production and accumulation of biogenic carbonates. Coral colonies up to 4 m thick provide a minimum measure of the magnitude of sea-level change involved in the development of the cycles. In contrast to previously documented simple carbonate sequences, this hybrid system of carbonates and siliciclastics preserves a more complete record of cyclic sea-level change, where terrigenous sediment supply compensated for the reduction in carbonate production during periods of falling and low sea level.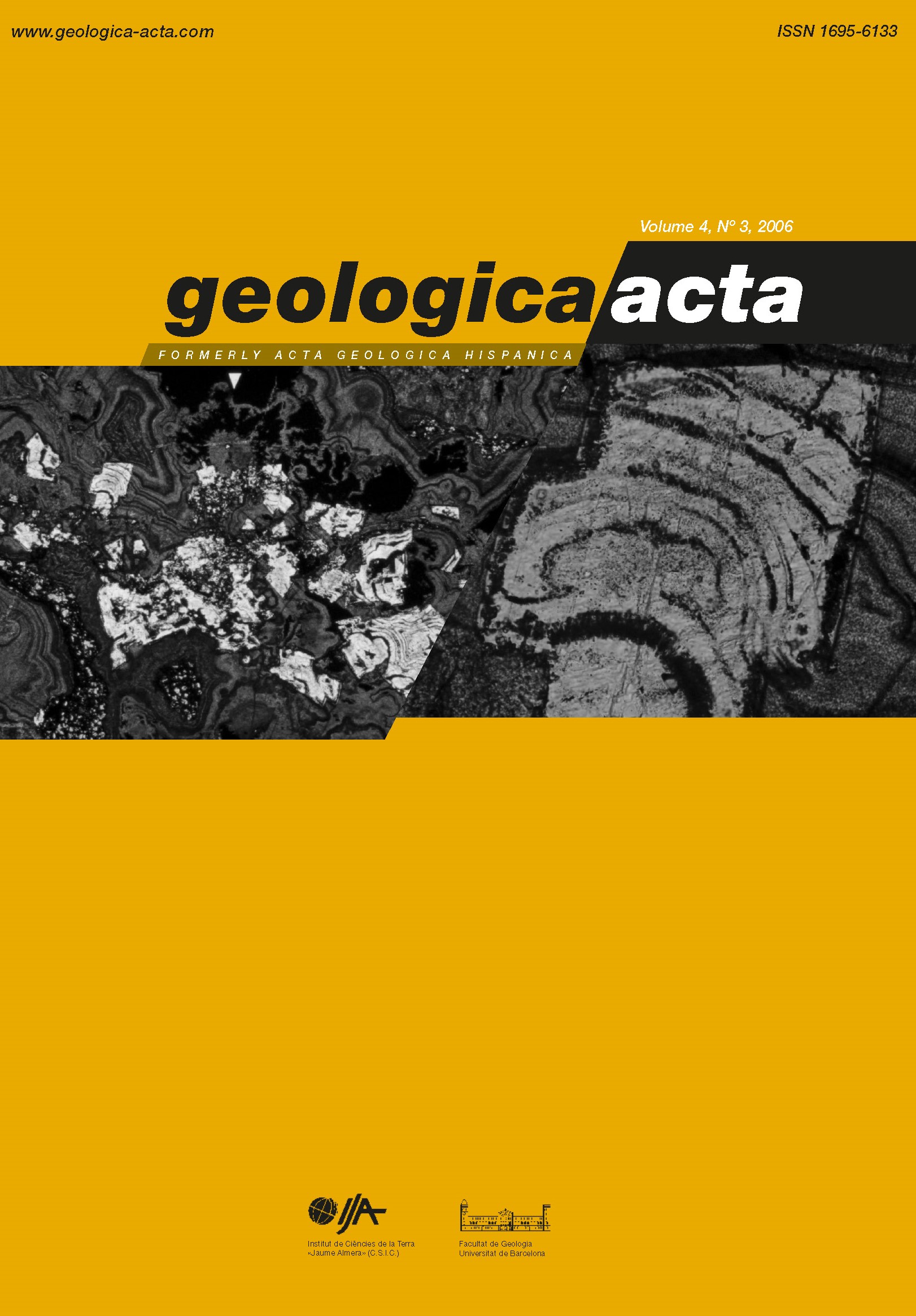 Downloads
License
This work is licensed under a Creative Commons Attribution-ShareAlike 4.0 International License.
Copyright
The commercial rights of the printed and online versions of Geologica Acta are property of the UB, ICTJA, IDAEA and UAB, and Geologica Acta must be cited for any partial or full reproduction.
The opinions and conclusions stated in each article are the exclusive responsability of the authors and do not necessarily coincide with those of the above mentioned institutions UB, ICTJA, IDAEA and UAB.
Author Rights
Authors retain the copyright on their papers (accepted manuscript, uncorrected proof and published paper) and are authorized to post them on their own Web page or their institutional repositories. In all cases, the complete citation and a link to the Digital Object Identifier (DOI) of the article must be included.
The authors can use excerpts or reproduce illustrations of their papers in other works without prior permission of Geologica Acta provided the source of the paper including the complete citation is fully acknowledged.
Papers are distributed under the Attribution-Share Alike Creative Commons License. This license allows others to alter, remix or build upon a paper and the resulting work may be distributed under the same or similar license to this one.