Cretaceous to Mid-Eocene pelagic sediment budget in Puerto Rico and the Virgin Islands (northeast Antilles Island arc)
Keywords:
Island arc, Antilles, Cretaceous, Pelagic sediment, Mantle melting.
Abstract
Island arc basalts (IAB) in the Greater Antilles, dating between Albian and mid-Eocene time (~112 to 45 Ma), consist of an early low-K, primitive island arc (PIA) basalt series and a later, predominantly intermediate calcalkaline (CA) series. The rocks resemble modern sediment-poor, low-light rare earth element (LREE)/heavy rare earth element (HREE) arc basalts from intra-oceanic tectonic settings and sediment-rich, high-LREE/HREE types from continental margin arcs, respectively. Isotope and incompatible trace element distribution along a 450 km segment of the arc in the northeast Antilles demonstrates that low-LREE/HREE basalts predominate in Albian to Santonian (~85 Ma) stratigraphic sequences in the Virgin Islands (VI) and northeast Puerto Rico (NEPR), while there is a gradual but spectacular increase in both LREE/HREE and absolute abundances of incompatible elements in central Puerto Rico (CPR). Northeastern Antilles basalts have consistently elevated La/Nb and relatively low Nb/Zr, both inconsistent with the presence of a significant ocean island basalt component. Hence, observed differences are interpreted to reflect variation in proportions of pelagic sediment subducted by the south-dipping Antilles arc system as it swept north-eastward across the Caribbean region and eventually approached the Bahama Banks along the south-eastern fringes of the North American Plate. Trace element mixing models indicate sediment proportions in VI and NEPR were limited, averaging considerably below 1.0%. In comparison sediment content in CPR increased from an average slightly above 1.0% in Albian (~112 Ma) basalts to as high as 8% in Cenomanian (100-94 Ma) types. Hypothetical pre-arc pelagic sedimentary facies in the subducted proto-Atlantic (or proto-Caribbean) basin, included 1) a young, centrally located longitudinal ridge-crest facies, with a thin sediment cover, eventually subducted by VI and NEPR, 2) a slightly older basin-margin facies of variable width and moderate sediment thickness, subducted by CPR during Albian time, and 3) a thick, pre-arc continental margin facies in the vicinity of Central America, subducted by CPR during Cenomanian time. Following collision of neighboring Hispaniola with the Bahamas sediment budgets in the northeast Antilles stabilized at moderate levels from 2 to 3%, reflecting widespread subduction of North Atlantic Cretaceous pelagic sediment (AKPS).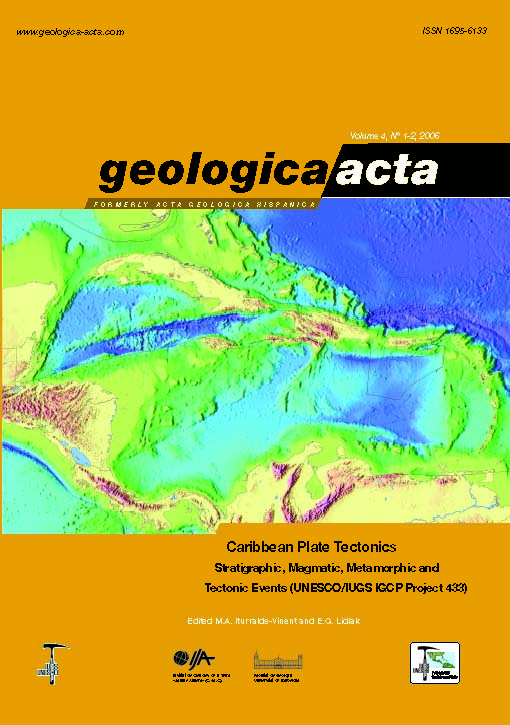 Downloads
License
This work is licensed under a Creative Commons Attribution-ShareAlike 4.0 International License.
Copyright
The commercial rights of the printed and online versions of Geologica Acta are property of the UB, ICTJA, IDAEA and UAB, and Geologica Acta must be cited for any partial or full reproduction.
The opinions and conclusions stated in each article are the exclusive responsability of the authors and do not necessarily coincide with those of the above mentioned institutions UB, ICTJA, IDAEA and UAB.
Author Rights
Authors retain the copyright on their papers (accepted manuscript, uncorrected proof and published paper) and are authorized to post them on their own Web page or their institutional repositories. In all cases, the complete citation and a link to the Digital Object Identifier (DOI) of the article must be included.
The authors can use excerpts or reproduce illustrations of their papers in other works without prior permission of Geologica Acta provided the source of the paper including the complete citation is fully acknowledged.
Papers are distributed under the Attribution-Share Alike Creative Commons License. This license allows others to alter, remix or build upon a paper and the resulting work may be distributed under the same or similar license to this one.