Structure, tectonics and metamorphic development of the Sancti Spiritus Dome (eastern Escambray massif, Central Cuba)
Keywords:
Subduction-accretion complex, Metamorphism, Tectonics, Petrology, Geochronology, Greater Antillean Arc.
Abstract
The Sancti Spiritus Dome of the eastern Escambray (Cuba) represents a metamorphic fold and thrust structure which was part of the Cretaceous subduction-accretion complex of the Greater Antillean Arc. On the basis of structural data and pressure-temperature-time evolution the metamorphic complex can be subdivided into four units interpretable as nappes: a high-grade greenschist-facies unit (Pitajones unit), a high-pressure tectonic mélange (Gavilanes unit), high-pressure amphibolites (Yayabo unit) and – tectonically overlying - low-pressure metagabbros of the Greater Antillean Arc (Mabujina unit). The oldest rock fabrics are preserved in eclogite- and blueschist-facies rocks of the Gavilanes unit, indicating arc-parallel extension. Maximum metamorphic conditions are recorded in eclogites (16-20 kbar, 580-630 °C) and garnet-mica schists (16-23 kbar, 530-610 °C) of the Gavilanes unit. Field observations and fabric studies show that greenschist-facies dynamic indicators are dominated by top-to-NE tectonic transport in the lowermost nappes. The greenschist-facies shear zone between the Yayabo unit and the Mabujina unit is viewed as the main detachment zone between the subduction complex and the overlying arc complex. Active subduction ceased at about 70 Ma, followed by rapid uplift, exhumation and thrusting to the north.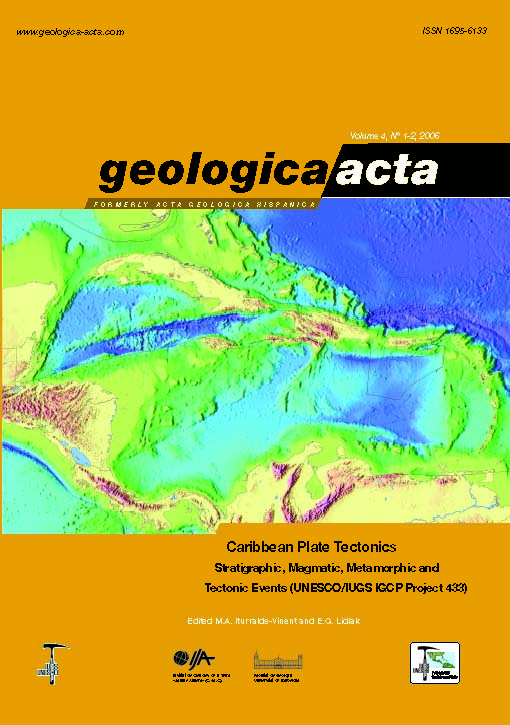 Downloads
License
This work is licensed under a Creative Commons Attribution-ShareAlike 4.0 International License.
Copyright
The commercial rights of the printed and online versions of Geologica Acta are property of the UB, ICTJA, IDAEA and UAB, and Geologica Acta must be cited for any partial or full reproduction.
The opinions and conclusions stated in each article are the exclusive responsability of the authors and do not necessarily coincide with those of the above mentioned institutions UB, ICTJA, IDAEA and UAB.
Author Rights
Authors retain the copyright on their papers (accepted manuscript, uncorrected proof and published paper) and are authorized to post them on their own Web page or their institutional repositories. In all cases, the complete citation and a link to the Digital Object Identifier (DOI) of the article must be included.
The authors can use excerpts or reproduce illustrations of their papers in other works without prior permission of Geologica Acta provided the source of the paper including the complete citation is fully acknowledged.
Papers are distributed under the Attribution-Share Alike Creative Commons License. This license allows others to alter, remix or build upon a paper and the resulting work may be distributed under the same or similar license to this one.