Timing and implications of Late Cretaceous tectonic and sedimentary events in Jamaica
Keywords:
Cretaceous, Tertiary, Uncorfomities, Caribbean Plate, Jamaica, Stratigraphy.
Abstract
The Cretaceous succession in Jamaica can be divided into sedimentary packages bounded by major unconformities (synthems). On the base of biostratigraphy and ages derived from strontium isotope ratios, these unconformities have been dated as Early Santonian, Late Campanian-Early Maastrichtian and Early Eocene. Each unconformity is also characterised by the widespread deposition of shallow water limestones, and a further shallow limestone depositional event occurred in the late Middle Campanian. Some unconformities can be related to known tectonic events (based on either Burke-type or Pindell-type models) that affected the Caribbean region. The Early Santonian event is widespread and occurred shortly after the creation of the Caribbean Large Igneous Province. The late Middle Campanian shallow water limestone event could correlate to the reversal of the Great Arc of the Caribbean in Burke-type models, but is unrepresented in Pindell-type models. The Late Campanian-Early Maastrichtian unconformity is related to the first collision of the Caribbean Plate with North America in both Burke-type and Pindell-type models. The Early Eocene event is associated with the onset of rifting that controlled Tertiary depositional patterns across Jamaica.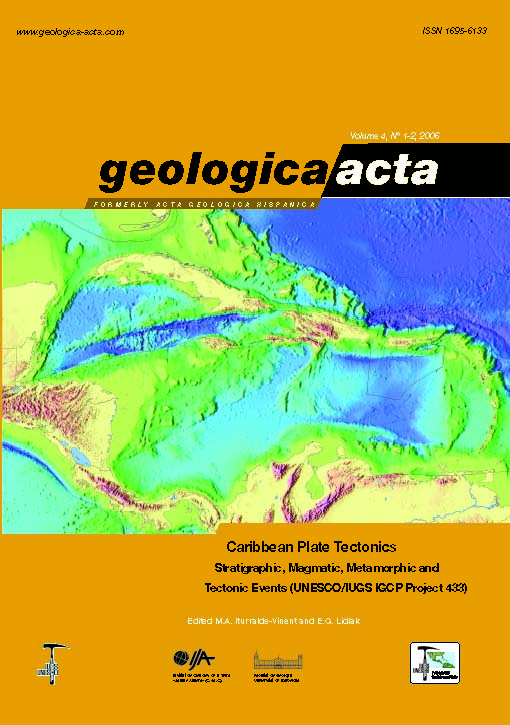 Downloads
License
This work is licensed under a Creative Commons Attribution-ShareAlike 4.0 International License.
Copyright
Geologica Acta is the property of the UB, GEO3BCN, IDAEA and UAB. Geologica Acta must be cited for any partial or full reproduction. Papers are distributed under the Attribution-Share Alike Creative Commons License. This license allows anyone to reproduce and disseminate the content of the journal and even make derivative works crediting authorship and provenance and distributing possible derivative works under the same license or an equivalent license.
Author Rights
Authors retain the copyright on their papers and are authorized to post them on their own web pages or institutional repositories. In all cases, the complete citation and a link to the Digital Object Identifier (DOI) of the article must be included.
The authors can use excerpts or reproduce illustrations of their papers in other works without prior permission from Geologica Acta provided the source of the paper including the complete citation is fully acknowledged.