Tremadocian Graptolite-Conodont Biostratigraphy of the South American Gondwana margin (Eastern Cordillera, NW Argentina)
Keywords:
Graptolites, Conodonts, Biostratigraphy, Tremadocian, Eastern Cordillera, Argentina.
Abstract
The Tremadocian graptolite and conodont faunas of the Gondwana Margin recorded at the Eastern Cordillera (EC) of Salta and Jujuy provinces (northwestern Argentina) are studied. The previous data and the new provided information indicate that a "no nominated interval" and several graptolite zones (Anisograptus matanensis, Rhabdinopora flabelliformis anglica, Bryograptus, Kiaerograptus, Kiaerograptus supremus, Araneograptus murrayi, and Hunnegraptus copiosus zones), as well as several conodont zones (Iapetognathus, Cordylodus angulatus, Paltodus deltifer, and Acodus deltatus - Paroistodus proteus zones) occur in the Ordovician successions studied. New or reappraised data from sections such as Angosto del Moreno, Angosto de Lampazar, Parcha-Incamayo-Incahuasi area, and Cajas range (EC western margin), and Alfarcito area and Mojotoro range (EC eastern margin), provide new information on the composition of the fossil faunas. A composite graptoliteconodont biostratigraphic framework, including records of key trilobites as external control group, is proposed for the Tremadocian of the South American margin of Gondwana. Both fossil groups are generally recorded from outer platform to ocean basin environments, showing significant similarities with the Baltoscandian faunas. Nevertheless, particular shallow-water facies include either specific forms or species associations that are common to the epeiric shallow-water seas of Laurentia. This fact demonstrates an important interplay between faunas of different regions of the Iapetus Ocean during the Tremadocian.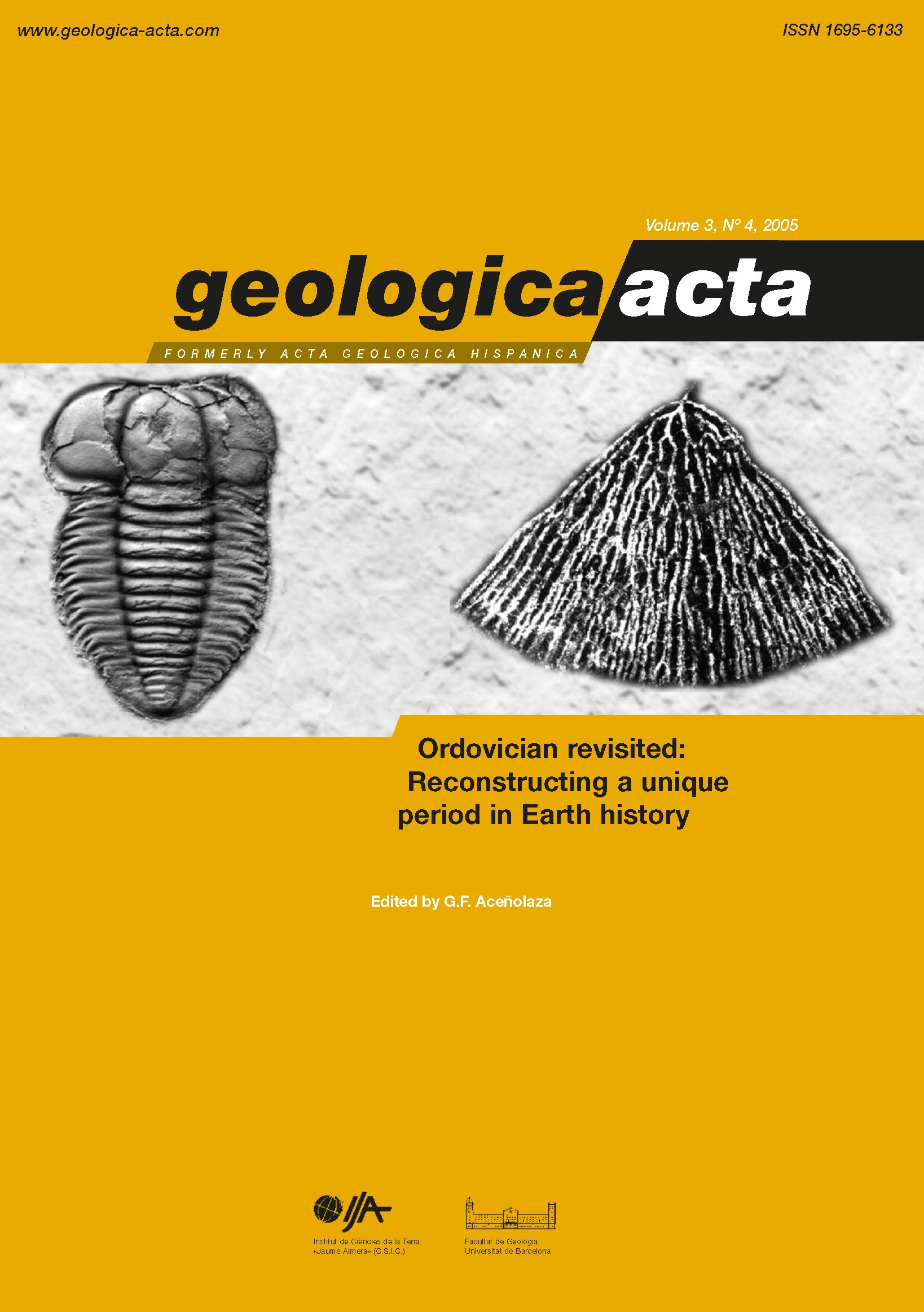 Downloads
License
This work is licensed under a Creative Commons Attribution-ShareAlike 4.0 International License.
Copyright
The commercial rights of the printed and online versions of Geologica Acta are property of the UB, ICTJA, IDAEA and UAB, and Geologica Acta must be cited for any partial or full reproduction.
The opinions and conclusions stated in each article are the exclusive responsability of the authors and do not necessarily coincide with those of the above mentioned institutions UB, ICTJA, IDAEA and UAB.
Author Rights
Authors retain the copyright on their papers (accepted manuscript, uncorrected proof and published paper) and are authorized to post them on their own Web page or their institutional repositories. In all cases, the complete citation and a link to the Digital Object Identifier (DOI) of the article must be included.
The authors can use excerpts or reproduce illustrations of their papers in other works without prior permission of Geologica Acta provided the source of the paper including the complete citation is fully acknowledged.
Papers are distributed under the Attribution-Share Alike Creative Commons License. This license allows others to alter, remix or build upon a paper and the resulting work may be distributed under the same or similar license to this one.