The Early Paleozoic history of the Cuyania (greater Precordillera) terrane of western Argentina: evidence from geochronology of detrital zircons from Middle Cambrian sandstones
Keywords:
Argentina, Precordillera, Cuyania, Cambrian, Ordovician, Paleogeography.
Abstract
U-Pb geochronology of large detrital zircons populations is a powerful tool for interpreting sandstone provenance. Here, it is applied to three Middle Cambrian sandstones from the Precordillera of Argentina with the purpose of using the provenance interpretations to test paleogeographic and paleotectonic models proposed for the Cuyania or Precordillera terrane. Two samples from the La Laja Formation have distinctive detrital zircon age distributions. All zircon grains fall within unimodal populations of 1688-1200 Ma in one sample and 1559- 1316 Ma in the other. Of these grains, 23% and 65%, respectively, are within the age range of the North American magmatic gap (1610-1490 Ma), indicating a non-Laurentian provenance. A very different sample was taken from a sandstone interval in a large olistolith within the Estancia San Isidro Formation. Its zircon population is dominated by a single, prominent 615-511 Ma age cluster, which is indicative of a provenance in a Brasiliano orogenic belt. The absence of zircons with Grenvillian ages (1200 to 950 Ma) is difficult to reconcile with paleogeographic and geotectonic models in which Cuyania rifted from Laurentia in Cambrian or Ordovician time. The data are most consistent with models in which Cuyania rifted from the southern margin of West Gondwana. Given a Cambrian association with Gondwana and a post-Ordovician arrival at its present position in Gondwana, the Cuyania terrane must have migrated along the southern and western margins of Gondwana during the Ordovician Period.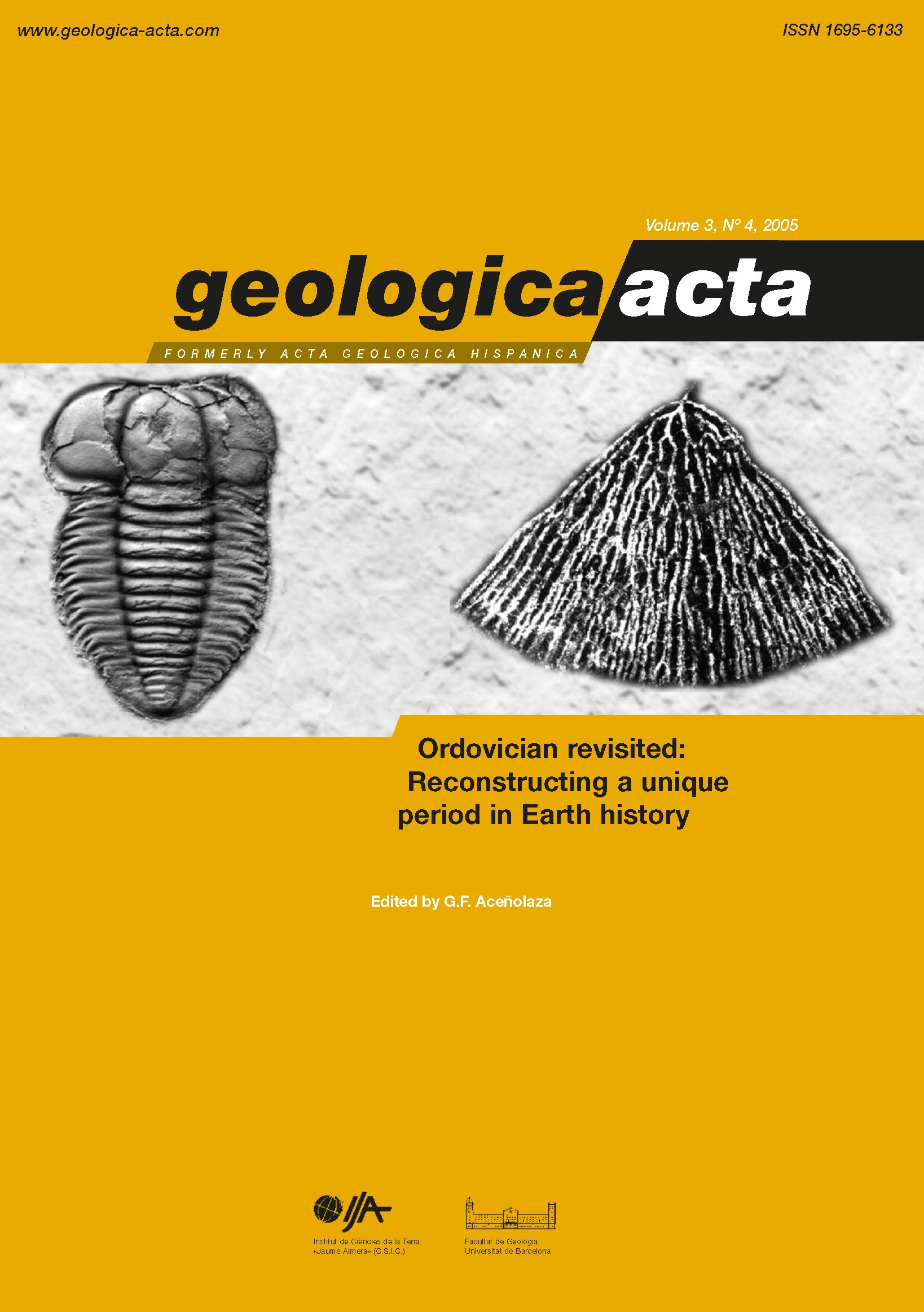 Downloads
License
This work is licensed under a Creative Commons Attribution-ShareAlike 4.0 International License.
Copyright
The commercial rights of the printed and online versions of Geologica Acta are property of the UB, ICTJA, IDAEA and UAB, and Geologica Acta must be cited for any partial or full reproduction.
The opinions and conclusions stated in each article are the exclusive responsability of the authors and do not necessarily coincide with those of the above mentioned institutions UB, ICTJA, IDAEA and UAB.
Author Rights
Authors retain the copyright on their papers (accepted manuscript, uncorrected proof and published paper) and are authorized to post them on their own Web page or their institutional repositories. In all cases, the complete citation and a link to the Digital Object Identifier (DOI) of the article must be included.
The authors can use excerpts or reproduce illustrations of their papers in other works without prior permission of Geologica Acta provided the source of the paper including the complete citation is fully acknowledged.
Papers are distributed under the Attribution-Share Alike Creative Commons License. This license allows others to alter, remix or build upon a paper and the resulting work may be distributed under the same or similar license to this one.