Darriwilian Conodont Biostratigraphy of the Las Chacritas Formation, Central Precordillera (San Juan Province, Argentina)
Keywords:
Ordovician, Conodonts, Biostratigraphy, Central Precordillera, Argentina.
Abstract
The Las Chacritas Fm in the type section in the Sierra de La Trampa, Central Precordillera (San Juan Province) was deposited in an outer carbonate ramp setting that evolved from relatively deep to shallow water. Samples from this well-exposed Middle Ordovician section yielded collections of low-diversity conodont faunas stratigraphically significant. The top of the underlying San Juan Fm and the lower and middle parts of the Las Chacritas Fm contain conodonts representative of the Lenodus variabilis Zone, and the upper part of the Las Chacritas Fm yields conodonts that correlate with the Paroistodus horridus subzone of the upper part of the Lenodus variabilis Zone. The occurrence of Dzikodus tablepointensis and Eoplacognathus pseudoplanus in the upper part of the Paroistodus horridus subzone is especially significant. The occurrence of Histiodella kristinae in the highest levels indicates that the top of the Las Chacritas Fm correlates with the Eoplacognathus suecicus Zone. Conodont biofacies are analyzed trough the entire section, supporting an outer platform or open sea conditions. Baltic and Sino-Pacific affinities are stated.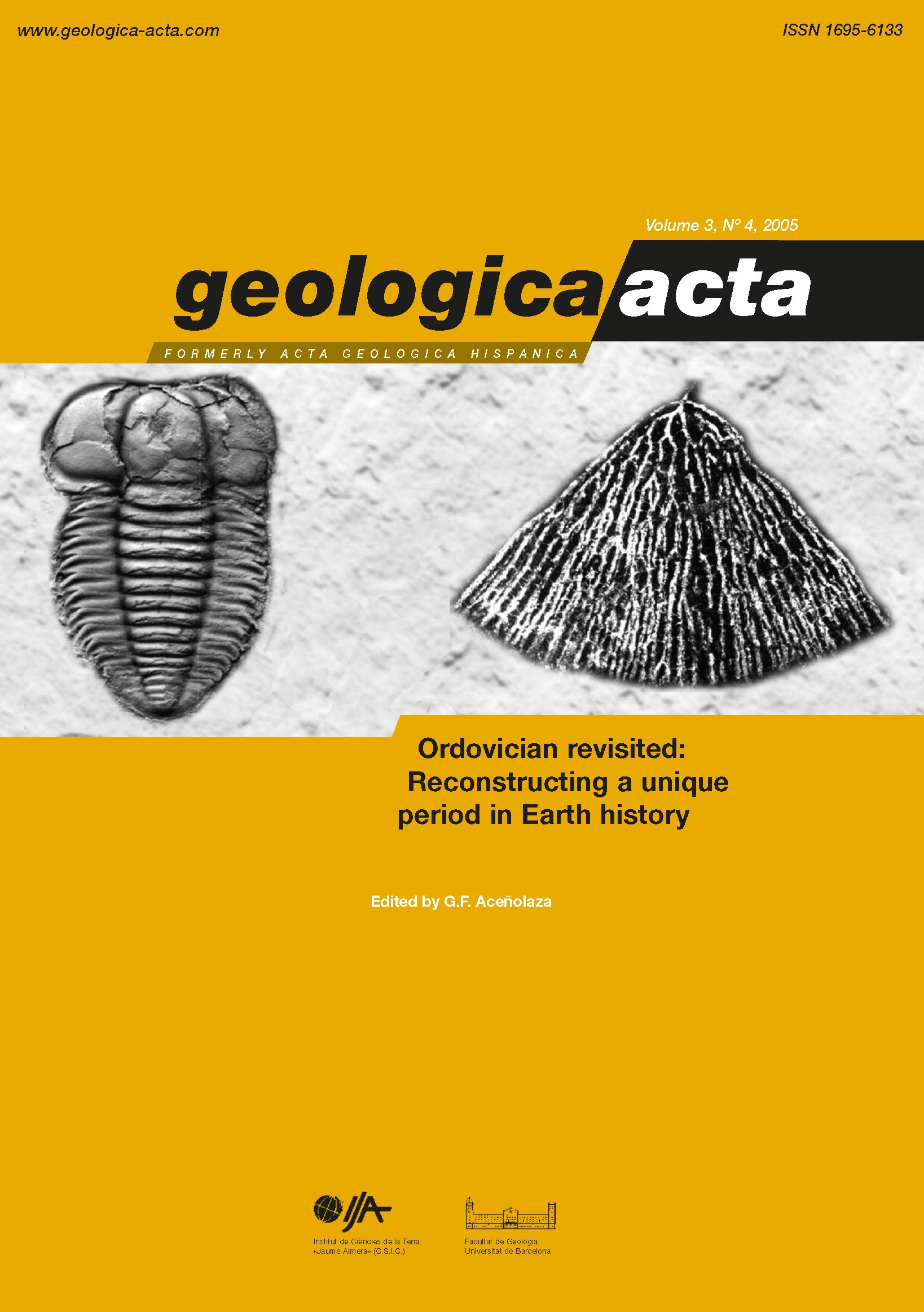 Downloads
License
This work is licensed under a Creative Commons Attribution-ShareAlike 4.0 International License.
Copyright
The commercial rights of the printed and online versions of Geologica Acta are property of the UB, ICTJA, IDAEA and UAB, and Geologica Acta must be cited for any partial or full reproduction.
The opinions and conclusions stated in each article are the exclusive responsability of the authors and do not necessarily coincide with those of the above mentioned institutions UB, ICTJA, IDAEA and UAB.
Author Rights
Authors retain the copyright on their papers (accepted manuscript, uncorrected proof and published paper) and are authorized to post them on their own Web page or their institutional repositories. In all cases, the complete citation and a link to the Digital Object Identifier (DOI) of the article must be included.
The authors can use excerpts or reproduce illustrations of their papers in other works without prior permission of Geologica Acta provided the source of the paper including the complete citation is fully acknowledged.
Papers are distributed under the Attribution-Share Alike Creative Commons License. This license allows others to alter, remix or build upon a paper and the resulting work may be distributed under the same or similar license to this one.