SIMSAFADIM-CLASTIC: A new approach to mathematical 3D forward simulation modelling for terrigeneous and carbonate marine sedimentation
Keywords:
Forward modelling, Process-based, Diffusion, Advection, Sediment transport, Mixed terrigenous-carbonate sedimentation
Abstract
Most sedimentary modelling programs developed in recent years focus on either terrigenous or carbonate marine sedimentation. Nevertheless, only a few programs have attempted to consider mixed terrigenous-carbonate sedimentation, and most of these are two-dimensional, which is a major restriction since geological processes take place in 3D. This paper presents the basic concepts of a new 3D mathematical forward simulation model for clastic sediments, which was developed from SIMSAFADIM, a previous 3D carbonate sedimentation model. The new extended model, SIMSAFADIM-CLASTIC, simulates processes of autochthonous marine carbonate production and accumulation, together with clastic transport and sedimentation in three dimensions of both carbonate and terrigenous sediments. Other models and modelling strategies may also provide realistic and efficient tools for prediction of stratigraphic architecture and facies distribution of sedimentary deposits. However, SIMSAFADIM-CLASTIC becomes an innovative model that attempts to simulate different sediment types using a process-based approach, therefore being a useful tool for 3D prediction of stratigraphic architecture and facies distribution in sedimentary basins. This model is applied to the neogene Vallès-Penedès half-graben (western Mediterranean, NE Spain) to show the capacity of the program when applied to a realistic geologic situation involving interactions between terrigenous clastics and carbonate sediments.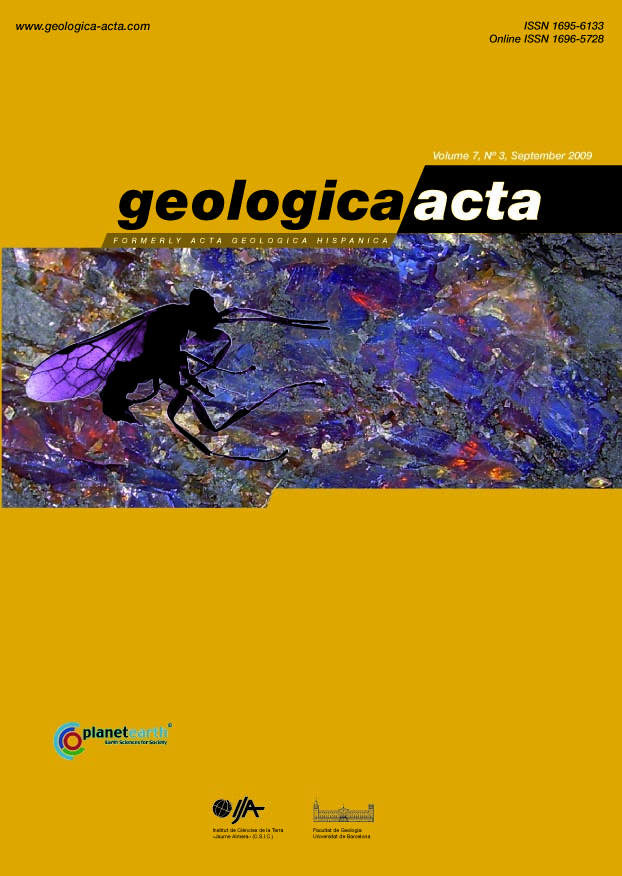 Downloads
License
This work is licensed under a Creative Commons Attribution-ShareAlike 4.0 International License.
Copyright
Geologica Acta is the property of the UB, GEO3BCN, IDAEA and UAB. Geologica Acta must be cited for any partial or full reproduction. Papers are distributed under the Attribution-Share Alike Creative Commons License. This license allows anyone to reproduce and disseminate the content of the journal and even make derivative works crediting authorship and provenance and distributing possible derivative works under the same or an equivalent license.
Author Rights
Authors retain the copyright on their papers and are authorized to post them on their own web pages or institutional repositories. The copyright was retained by the journal from the year 2003 until 2009. In all cases, the complete citation and a link to the Digital Object Identifier (DOI) of the article must be included. 
The authors can use excerpts or reproduce illustrations of their papers in other works without prior permission from Geologica Acta provided the source of the paper including the complete citation is fully acknowledged.