Unusual concentration of Early Albian arthropod-bearing amber in the Basque-Cantabrian Basi (El Soplao, Cantabria, Northern Spain): Palaeoenvironmental and palaeobiological implications
Keywords:
Arthropod bioinclusions, Fossil resin, Plant cuticles, Lower Albian, Spain.
Abstract
The El Soplao site is a recently-discovered Early Albian locality of the Basque-Cantabrian Basin (northern Spain) that has yielded a number of amber pieces with abundant bioinclusions. The amber-bearing deposit occurs in a non-marine to transitional marine siliciclastic unit (Las Peñosas Formation) that is interleaved within a regressive-transgressive, carbonate-dominated Lower Aptian-Upper Albian marine sequence. The Las Peñosas Formation corresponds to the regressive stage of this sequence and in its turn it splits into two smaller regressive-transgressive cycles. The coal and amber-bearing deposits occur in deltaic-estuarine environments developed during the maximum regressive episodes of these smaller regressive-transgressive cycles. The El Soplao amber shows Fourier Transform Infrared Spectroscopy spectra similar to other Spanish Cretaceous ambers and it is characterized by the profusion of sub-aerial, stalactite-like flows. Well-preserved plant cuticles assigned to the conifer genera Frenelopsis and Mirovia are abundant in the beds associated with amber. Leaves of the ginkgoalean genera Nehvizdya and Pseudotorellia also occur occasionally. Bioinclusions mainly consist of fossil insects of the orders Blattaria, Hemiptera, Thysanoptera, Raphidioptera, Neuroptera, Coleoptera, Hymenoptera and Diptera, although some spiders and spider webs have been observed as well. Some insects belong to groups scarce in the fossil record, such as a new morphotype of the wasp Archaeromma (of the family Mymarommatidae) and the biting midge Lebanoculicoides (of the monogeneric subfamily Lebanoculicoidinae). This new amber locality constitutes a very significant finding that will contribute to improving the knowledge and comprehension of the Albian non-marine paleoarthropod fauna.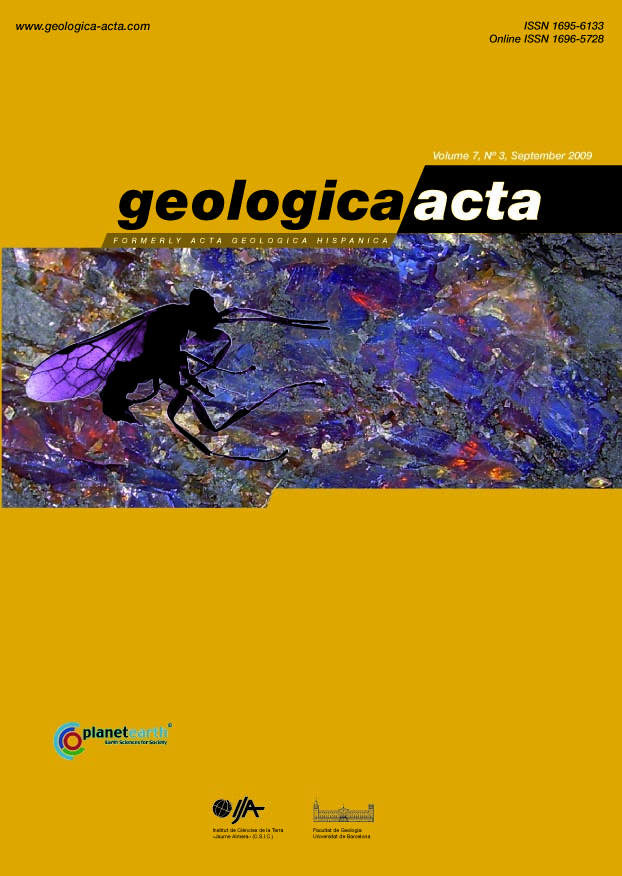 Downloads
License
Copyright
The commercial rights of the printed and online versions of Geologica Acta are property of the UB, ICTJA, IDAEA and UAB, and Geologica Acta must be cited for any partial or full reproduction.
The opinions and conclusions stated in each article are the exclusive responsability of the authors and do not necessarily coincide with those of the above mentioned institutions UB, ICTJA, IDAEA and UAB.
Author Rights
Authors retain the copyright on their papers (accepted manuscript, uncorrected proof and published paper) and are authorized to post them on their own Web page or their institutional repositories. In all cases, the complete citation and a link to the Digital Object Identifier (DOI) of the article must be included.
The authors can use excerpts or reproduce illustrations of their papers in other works without prior permission of Geologica Acta provided the source of the paper including the complete citation is fully acknowledged.
Papers are distributed under the Attribution-Share Alike Creative Commons License. This license allows others to alter, remix or build upon a paper and the resulting work may be distributed under the same or similar license to this one.