In situ thermochemical sulfate reduction during ore formation at the Itxaspe Zn-(Pb) MVT occurrence (Basque-Cantabrian basin, Northern Spain)
Keywords:
Bitumen, Thermochemical sulfate reduction, Mississippi Valley-type deposits, Basque-Cantabrian basin
Abstract
Organic matter is thought to play a role in the genesis of many Mississippi Valley-type (MVT) deposits, actino as a reducing agent during thermochemical sulfate reduction (TSR). Although TSR is an extremely slow reaction t low temperatures (lt;100ºC), under favorable conditions it may supply the necessary reduced sulfur during ore formation. To test this hypothesis, the Itxaspe Zn-(Pb) MVT occurrence in the Basque-Cantabrian basin (Northern Spain) was studied. Sphalerite, the main ore phase, is generally found disseminated in Urgonian (Lower Cretaceous) carbonates, and in close relationship with solid bitumen. The bitumen source rock was very likely deposited in a marine marginal setting. Differences in composition of the bitumen samples are attributed to a fractionation during hydrocarbon expulsion and/or migration. The fluids involved in ore deposition were low temperature (Th ~130ºC), Na-Ca-Cl-(K-Mg)-type brines (salinities ~12.5 equiv. mass % NaCl). The origin of brine solutes (including sulfate) is related to the dissolution of Mesozoic evaporite units, although the contribution of evaporated seawater brines cannot be ruled out. The temperatures of ore deposition, the close relationship between the bitumen and ore phases, the presence of aromatic sulfur-bearing compounds and the d34S of sulfides and sulfates are consistent with an in situ TSR during ore formation in the Itxaspe Zn-(Pb) occurrence. Therefore, at least for small mineralizations like Itxaspe, our conclusion is that the necessary reduced sulfur can be supplied by TSR during ore genesis at the site of metal deposition.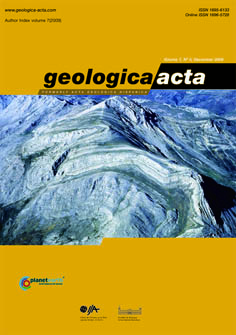 Downloads
License
Copyright
Geologica Acta is the property of the UB, GEO3BCN, IDAEA and UAB. Geologica Acta must be cited for any partial or full reproduction. Papers are distributed under the Attribution-Share Alike Creative Commons License. This license allows anyone to reproduce and disseminate the content of the journal and even make derivative works crediting authorship and provenance and distributing possible derivative works under the same license or an equivalent license.
Author Rights
Authors retain the copyright on their papers and are authorized to post them on their own web pages or institutional repositories. In all cases, the complete citation and a link to the Digital Object Identifier (DOI) of the article must be included.
The authors can use excerpts or reproduce illustrations of their papers in other works without prior permission from Geologica Acta provided the source of the paper including the complete citation is fully acknowledged.