First evidence of lamprophyric magmatism within the Subbetic Zone (Southern Spain)
Keywords:
Lamprophyric magmatism. Metasomatized mantle. Subbetic Zone. Betic Cordilleras. Southern Spain.
Abstract
Two drillings carried out at Cerro Prieto (Province of Málaga), together with additional geophysical data, revealed the existence of an igneous body formed of rock-types previously unknown in the Subbetic zone. The recovered rocks, emplaced under hypoabyssal conditions, are predominantly porphyric, containing olivine, diopside and TiO2-rich phlogopite phenocrysts (up to 1-2 mm in size) within a micro-to-hypocrystalline groundmass composed of alkali-feldspar, diopside, phlogopite and abundant magnetite, and could be classified as "alkali minettes" lamprophyres. They contain numerous xenocrysts corroded by the magma and centimetric ultrafemic xenoliths deriving from the mantle. Clinopyroxenes yield crystallisation temperatures from about 1150 to 1320º C and pressures ranging from about 4 to 17 kbar, suggesting 50 km as the minimum depth of the magma sources. The chemical compositions of these lamprophyres are similar to intra-plate alkali-basalts, derived from oceanic-island-basaltic-type highly metasomatized mantle sources. 40Ar/39Ar dating of a phlogopite mineral separate gave an age of 217±2.5 Ma. However, these rocks are more similar to the Permian alkaline lamprophyres in the Spanish Central System than to the Mesozoic dolerites and basalts widespread throughout the Subbetic Zone. We propose that the Cerro Prieto subvolcanic event represents the onset of a widespread magmatic phase induced by the post-Hercynian extensional tectonic activity that also affected the whole South-Iberian Paleomargin, within a geodynamic context that ultimately led to the opening of the Atlantic and the Neotethys oceans, accompanied by intrusion of basic magmas along their continental margins.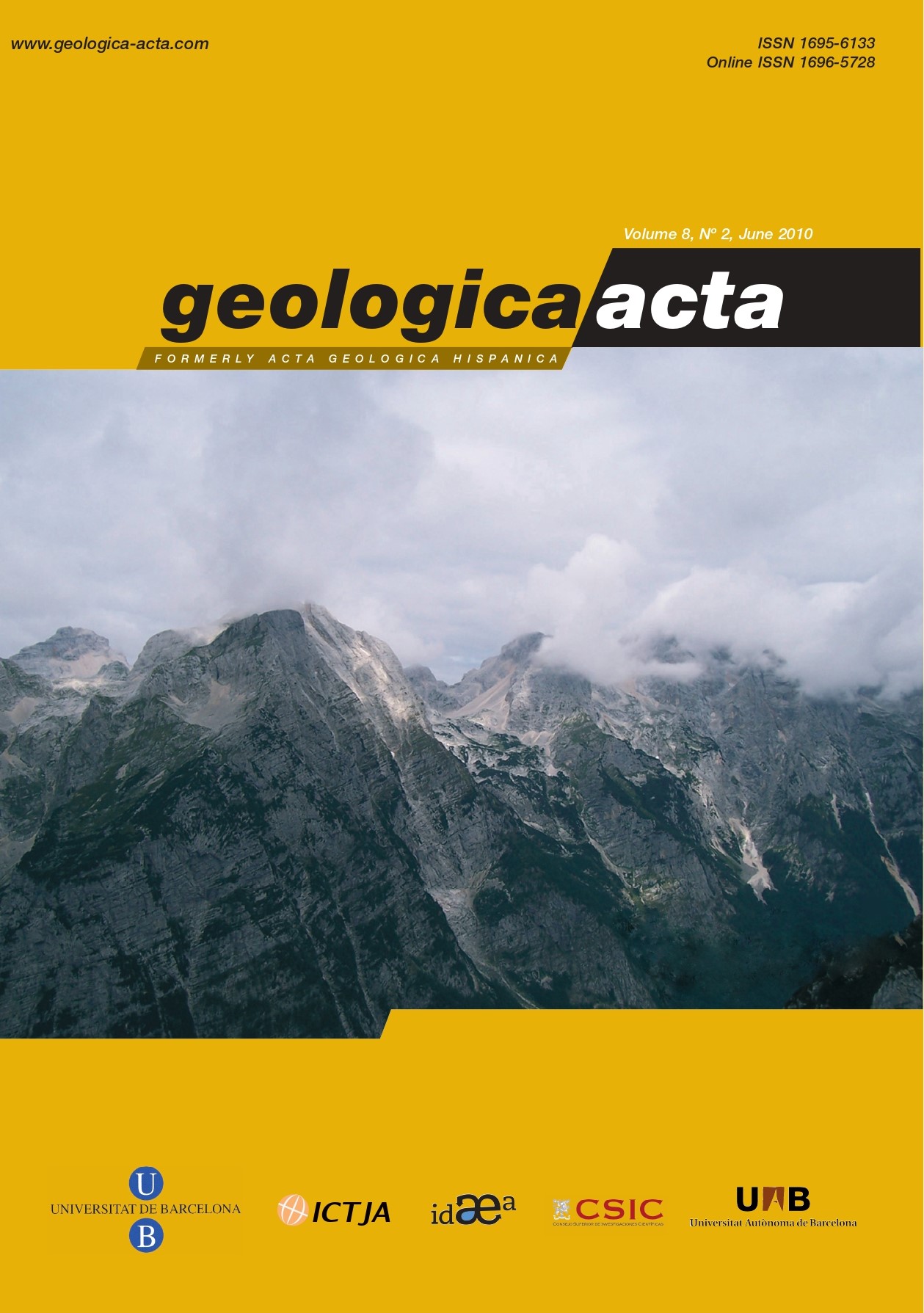 Downloads
License
Copyright
The commercial rights of the printed and online versions of Geologica Acta are property of the UB, ICTJA, IDAEA and UAB, and Geologica Acta must be cited for any partial or full reproduction.
The opinions and conclusions stated in each article are the exclusive responsability of the authors and do not necessarily coincide with those of the above mentioned institutions UB, ICTJA, IDAEA and UAB.
Author Rights
Authors retain the copyright on their papers (accepted manuscript, uncorrected proof and published paper) and are authorized to post them on their own Web page or their institutional repositories. In all cases, the complete citation and a link to the Digital Object Identifier (DOI) of the article must be included.
The authors can use excerpts or reproduce illustrations of their papers in other works without prior permission of Geologica Acta provided the source of the paper including the complete citation is fully acknowledged.
Papers are distributed under the Attribution-Share Alike Creative Commons License. This license allows others to alter, remix or build upon a paper and the resulting work may be distributed under the same or similar license to this one.