Early Cretaceous Surtseyan volcanoes of the Baño Nuevo Volcanic Complex (Aysén Basin, Eastern Central Patagonian Cordillera, Chile)
Keywords:
Hydrovolcanism, Patagonian Andes, Aptian, Amphibole, megacryst, geochemistry
Abstract
Tens of Surtseyan tuff cones are exposed in the Río Coichel valley, between Ñireguao and Estancia Baño Nuevo (Southern Chilean Andes). The Early Cretaceous products of the submarine eruptions rest on, or are interbedded with, shallow marine sandstones of the Hauterivian-early Aptian Apeleg Formation. The Early Cretaceous rocks typically contain large amphibole phenocrysts, clinopyroxene and plagioclase, and have compositions that range from relatively primitive basalts to andesites. The basalts are slightly enriched in LREE and incompatible trace elements. They have low Ti-contents and negative anomalies in Nb and Ta, characteristic of subduction-related magmas. Centimetre-sized amphibole megacrysts and an amphibole-bearing clinopyroxenite xenolith have been found in one of the tuff cones located near Estancia Baño Nuevo. The amphibole megacrysts are pargasite (low Si and Ti, high Mg). The xenolith has diopsidic clinopyroxene with abundant inclusions, and pargasite veins enclosing smaller clinopyroxene neoblasts. Geochemical data show that the megacrysts and the xenolith have the same origin and correspond to underplated igneous bodies crystallized at high pressure.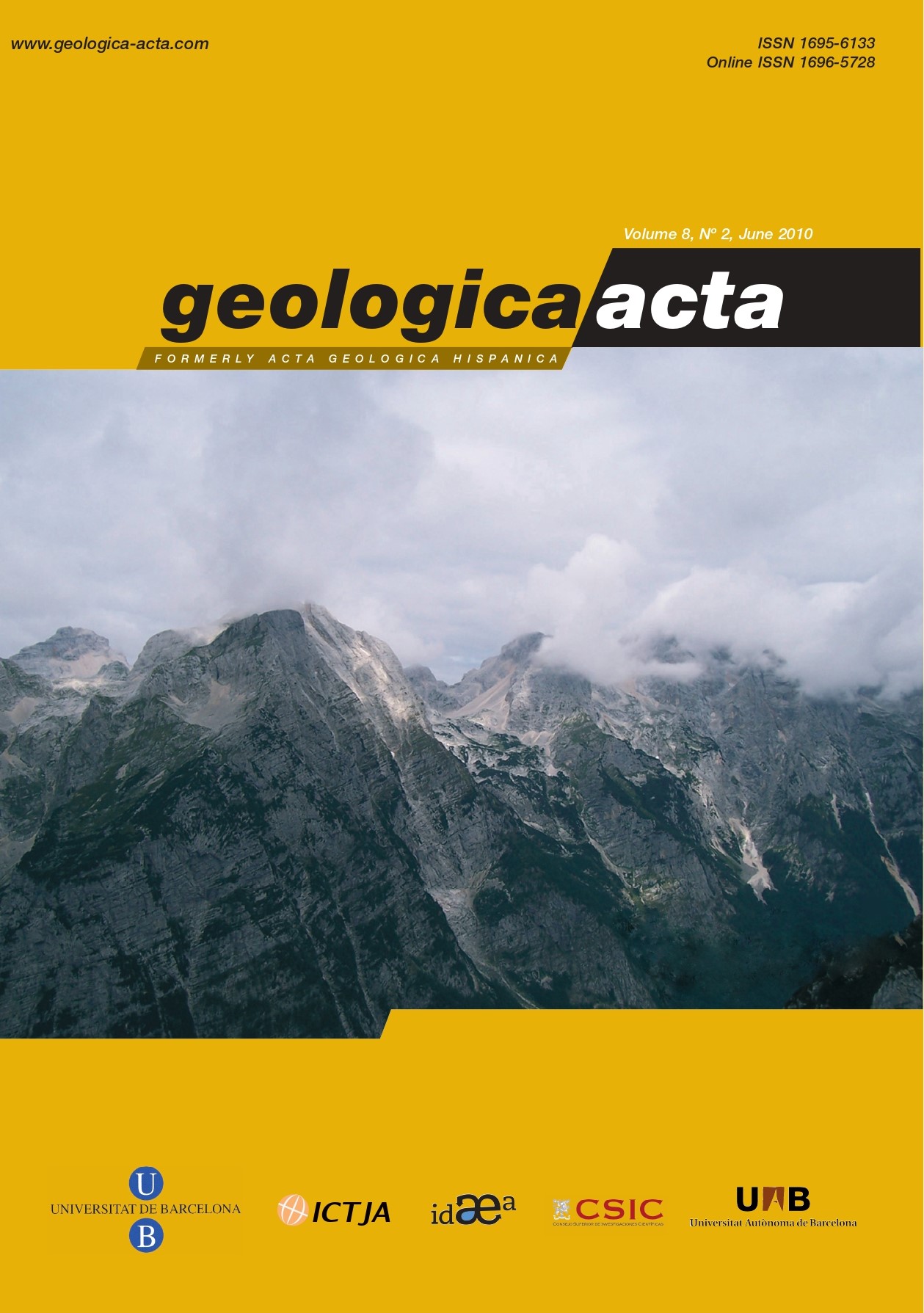 Downloads
License
Copyright
The commercial rights of the printed and online versions of Geologica Acta are property of the UB, ICTJA, IDAEA and UAB, and Geologica Acta must be cited for any partial or full reproduction.
The opinions and conclusions stated in each article are the exclusive responsability of the authors and do not necessarily coincide with those of the above mentioned institutions UB, ICTJA, IDAEA and UAB.
Author Rights
Authors retain the copyright on their papers (accepted manuscript, uncorrected proof and published paper) and are authorized to post them on their own Web page or their institutional repositories. In all cases, the complete citation and a link to the Digital Object Identifier (DOI) of the article must be included.
The authors can use excerpts or reproduce illustrations of their papers in other works without prior permission of Geologica Acta provided the source of the paper including the complete citation is fully acknowledged.
Papers are distributed under the Attribution-Share Alike Creative Commons License. This license allows others to alter, remix or build upon a paper and the resulting work may be distributed under the same or similar license to this one.