Glacial events in Carboniferous sequences from Paganzo and Río Blanco Basins (Northwest Argentina): Palynology and depositional setting
Keywords:
Carboniferous, Argentina, Glaciation, Palynology
Abstract
The age and depositional setting of two glacial events recognized in the western basins of Argentina are discussed in this paper. The older one corresponds to diamictites identified in the upper member of the Cortaderas Formation (Visean, Río Blanco Basin). The glacial sequence consists of shales, dropstone-bearing shales massive matrixrich diamictites, massive clast-rich diamictites, and stratified diamictites, all of them interpreted as deposited in distal glaciomarine settings. Palynological remains recovered from shales interstratified with diamictites were referred to the late Visean Reticulatisporites magnidictyus-Verrucosisporites quasigobbettii Biozone. Younger glacial deposits were studied at the base of the Guandacol Formation (Paganzo Basin) where are made up by clast-poor massive diamictites, clast-rich massive diamictites, stratified diamictites, thinly-bedded dropstonebearing diamictites, rhythmites, dropstone-bearing shales, and barren of dropstone shales. The whole sequence is interpreted as deposited in low-relief proximal glaciomarine environments (morainal banks). The abundant palynological assemblages found in the glacial interval were included in the subzone A of the Raistrickia densa- Convolutispora muriornata Biozone which is considered Serpukhovian-early Bashkirian in age. Palynological remains found in the Cortaderas Formation suggest that the beginning of the Glacial 2 event in Gondwana (according to Isbell's chronological proposal for glacial and interglacial stages) should be considered late Visean while the end, according to the assemblages recovered from the Guandacol Formation, was not younger than early Bashkirian. Moreover, sedimentological and stratigraphic data suggest the existence of a short interglacial period between the Cortaderas and Guandacol glacial events.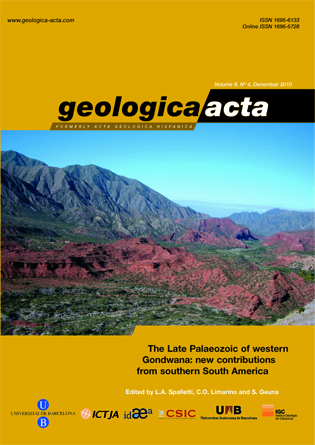 Downloads
License
Copyright
Geologica Acta is the property of the UB, GEO3BCN, IDAEA and UAB. Geologica Acta must be cited for any partial or full reproduction. Papers are distributed under the Attribution-Share Alike Creative Commons License. This license allows anyone to reproduce and disseminate the content of the journal and even make derivative works crediting authorship and provenance and distributing possible derivative works under the same license or an equivalent license.
Author Rights
Authors retain the copyright on their papers and are authorized to post them on their own web pages or institutional repositories. In all cases, the complete citation and a link to the Digital Object Identifier (DOI) of the article must be included.
The authors can use excerpts or reproduce illustrations of their papers in other works without prior permission from Geologica Acta provided the source of the paper including the complete citation is fully acknowledged.