Fluvial and eolian ichnofaunas from the Lower Permian of South America (Patquía Formation, Paganzo Basin)
Keywords:
Scoyenia ichnofacies, Eolian ichnofacies, Tetrapod footprints, Early Permian, Patquía, Formation
Abstract
The Lower Permian Patquía Formation is the youngest unit of the Paganzo Basin, western Argentina. The lower section consists of red mudstones, and fine- and coarse grained sandstones deposited in fluvial systems with extensive and thick floodplain deposits. These rocks contain a low-diversity and relatively abundant association of trace fossils suggesting the activity of a sub-superficial to superficial fauna. The association is characterized by Rusophycus carbonarius (Cubichnia), Cruziana problematica (Repichnia), and Palaeophycus tubularis (Domichnia) of the Scoyenia ichnofacies. Disarticulated fish remains are also present. The upper section is dominated by red, cross-bedded, medium- to fine-grained sandstones deposited in eolian systems that host a lowdiversity and low-abundance association of trace fossils that indicates the activity of a mainly superficial fauna. Tetrapod footprints (Chelichnus duncani, oval digit imprints, short parallel grooves, and sinusoidal grooves), horizontal to vertical burrows (Palaeophycus tubularis and Skolithos isp. respectively), and arthropod trackways are the typical components of these deposits. The association shows elements of the three presently proposed eolian ichnofacies (Chelichnus, Octopodichnus and Entradichnus ichnofacies) suggesting the necessity of revision and the possible integration of these separate ichnofacies into a single model. The record of fossil vertebrate tracks is uncommon in Lower Permian strata of South America. Therefore, the ichnologic record of the Patquía Formation is a significant contribution to the understanding of Lower Permian South American ichnofaunas.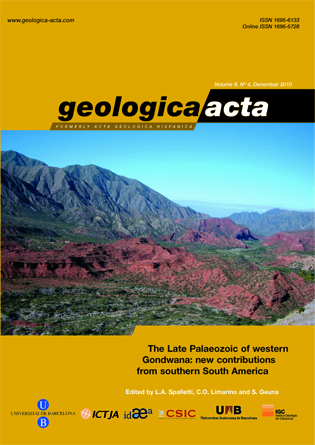 Downloads
License
Copyright
Geologica Acta is the property of the UB, GEO3BCN, IDAEA and UAB. Geologica Acta must be cited for any partial or full reproduction. Papers are distributed under the Attribution-Share Alike Creative Commons License. This license allows anyone to reproduce and disseminate the content of the journal and even make derivative works crediting authorship and provenance and distributing possible derivative works under the same license or an equivalent license.
Author Rights
Authors retain the copyright on their papers and are authorized to post them on their own web pages or institutional repositories. In all cases, the complete citation and a link to the Digital Object Identifier (DOI) of the article must be included.
The authors can use excerpts or reproduce illustrations of their papers in other works without prior permission from Geologica Acta provided the source of the paper including the complete citation is fully acknowledged.