Bivalves and brachiopods in the Carboniferous - Early Permian of Argentine Precordillera: Diversification and faunal turnover in Southwestern Gondwana
Keywords:
Diversification, Faunistic turnover, Bivalves, Brachiopods, Carboniferous-Permian, Argentine Precordillera
Abstract
Diversification patterns and faunistic turnovers of bivalves and brachiopods through the Carboniferous - Early Permian interval in the central western Argentinian basins are analyzed and compared with the global events proposed in former studies. This study reveals a generalized increase of bivalves, at familiar and generic levels, through three time intervals, i.e., Early Carboniferous (Tournaisian-Visean), Late Carboniferous (Bashkirian-Kasimovian) and Early Permian (Asselian-Sakmarian), while the brachiopod diversity seems to remain stable from the Late Carboniferous to the Early Permian. The trends recognized in the faunistic diversity appear to be closely related to the palaeoclimatic, palaeogeographic and palaeotectonic evolution at the Southwestern Gondwana margin. Highly stressing environmental changes in the Early Carboniferous, resulting fundamentally from the development of glacial conditions, may account for the lowest faunistic diversity recorded. Particular stress conditions, such as the nutrient availability, temperature and oxygen level, would have mainly affected the brachiopod faunas that evidence the lowest diversity recognized in the interval studied. At the Visean-Serpukovian boundary, the Late Palaeozoic marine record of the Precordillera shows a major break linked to a globally recognized glacial maximum, whereas an important faunistic turnover is mainly identified in the brachiopod faunas at the beginning of the Late Carboniferous. The more stable, less stressing environmental situation developed during the Late Carboniferous-Early Permian postorogenic sedimentation is also reflected by the different faunal assemblages studied. The Late Carboniferous was characterized by postglacial transgressions. During this time local rebound, a continuous increase of the diversity and an important faunal turnover, which mainly affected the brachiopod faunas, were recorded. These faunal trends may be related to the Early Permian climatic amelioration that affected the central western Argentinian basins. The subsequent Permian transgressive events, which produced new areas of potential spreading for the benthic fauna, allowed its increase and diversification, much better reflected by the bivalve assemblages.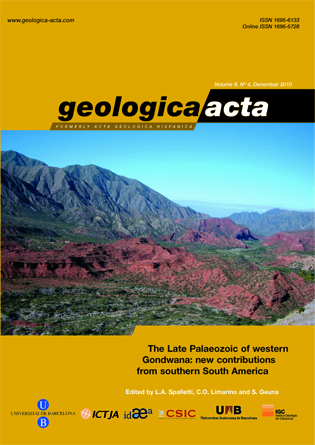 Downloads
License
Copyright
Geologica Acta is the property of the UB, GEO3BCN, IDAEA and UAB. Geologica Acta must be cited for any partial or full reproduction. Papers are distributed under the Attribution-Share Alike Creative Commons License. This license allows anyone to reproduce and disseminate the content of the journal and even make derivative works crediting authorship and provenance and distributing possible derivative works under the same license or an equivalent license.
Author Rights
Authors retain the copyright on their papers and are authorized to post them on their own web pages or institutional repositories. In all cases, the complete citation and a link to the Digital Object Identifier (DOI) of the article must be included.
The authors can use excerpts or reproduce illustrations of their papers in other works without prior permission from Geologica Acta provided the source of the paper including the complete citation is fully acknowledged.