The coupled occurrence of Cimmeriella-Jakutoproductus (Brachiopoda: Productidina) in Patagonia: implications for Early Permian high to middle paleolatitudinal correlations and paleoclimatic reconstruction
Keywords:
Cisuralian, Patagonia, Jakutoproductus, Cimmeriella, High paleolatitude correlations
Abstract
The brachiopod species Jakutoproductus sabattiniae sp. nov. and Cimmeriella willi sp. nov. from the Cisuralian deposits of the Tepuel-Genoa basin are described here. Biostratigraphy and stratigraphy of the uppermost section of the Tepuel Group (Mojón de Hierro and Río Genoa formations) are analyzed and a distinctive faunal succession is recognized: the Cimmeriella and Jakutoproductus faunal assemblages of late Sakmarian (Sterlitamakian) and early Artinskian estimated ages, respectively. The lower Permian correlations of these faunal occurrences and the chronology of mostly early Permian glacial episodes between Western and Eastern Argentina with Patagonia are discussed. The coupled Verchojania-Jakutoproductus, Eurydesma-Cimmeriella and Cimmeriella-Jakutoproductus faunal records have been used as a tool for the correlation of early Permian marine sequences from the high to middle paleolatidudinal settings of both hemispheres.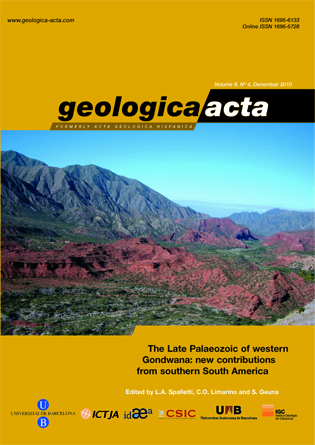 Downloads
License
Copyright
Geologica Acta is the property of the UB, GEO3BCN, IDAEA and UAB. Geologica Acta must be cited for any partial or full reproduction. Papers are distributed under the Attribution-Share Alike Creative Commons License. This license allows anyone to reproduce and disseminate the content of the journal and even make derivative works crediting authorship and provenance and distributing possible derivative works under the same license or an equivalent license.
Author Rights
Authors retain the copyright on their papers and are authorized to post them on their own web pages or institutional repositories. In all cases, the complete citation and a link to the Digital Object Identifier (DOI) of the article must be included.
The authors can use excerpts or reproduce illustrations of their papers in other works without prior permission from Geologica Acta provided the source of the paper including the complete citation is fully acknowledged.