The Cambrian System in Northwestern Argentina: stratigraphical and palaeontological framework
Abstract
Cambrian sequences are widespread in the early Paleozoic of the Central Andean Basin. Siliciclastic sediments dominate these sequences although several minor occurrences of carbonates and volcanic rocks have been observed. The rocks assigned to the Cambrian System in NW Argentina are recognized in the Puna, Eastern Cordillera, Subandean Ranges and the Famatina System. This paper gives a general overview of the Cambrian formations outcropping in the northern provinces of Jujuy, Salta, Tucumán, Catamarca and La Rioja. Special emphasis has been given to the stratigraphical and biostratigraphical framework of the sequences. Late Precambrian-Early Cambrian thick sedimentary wackes dominate the basal Puncoviscana Formation (s.l.), characterized by a varied ichnofauna that includes the Precambrian-Cambrian transitional levels. Thick packages of sandstone facies characterize the overlying highly ichnofossiliferous Mesón Group. A rich shelly fauna included in sandstones, shales and volcaniclastics, dominate in the Cambrian-Ordovician transitional levels of the overlying Cambro-Ordovician Santa Victoria and Cachiyuyo Groups. Palaeogeographic aspects dealing with the position and development of Cambrian basins are discussed. Several synthetic biostratigraphic tables are presented displaying the known record for the Cambrian System, including the transitional levels to the lowermost Ordovician in the above-mentioned regions.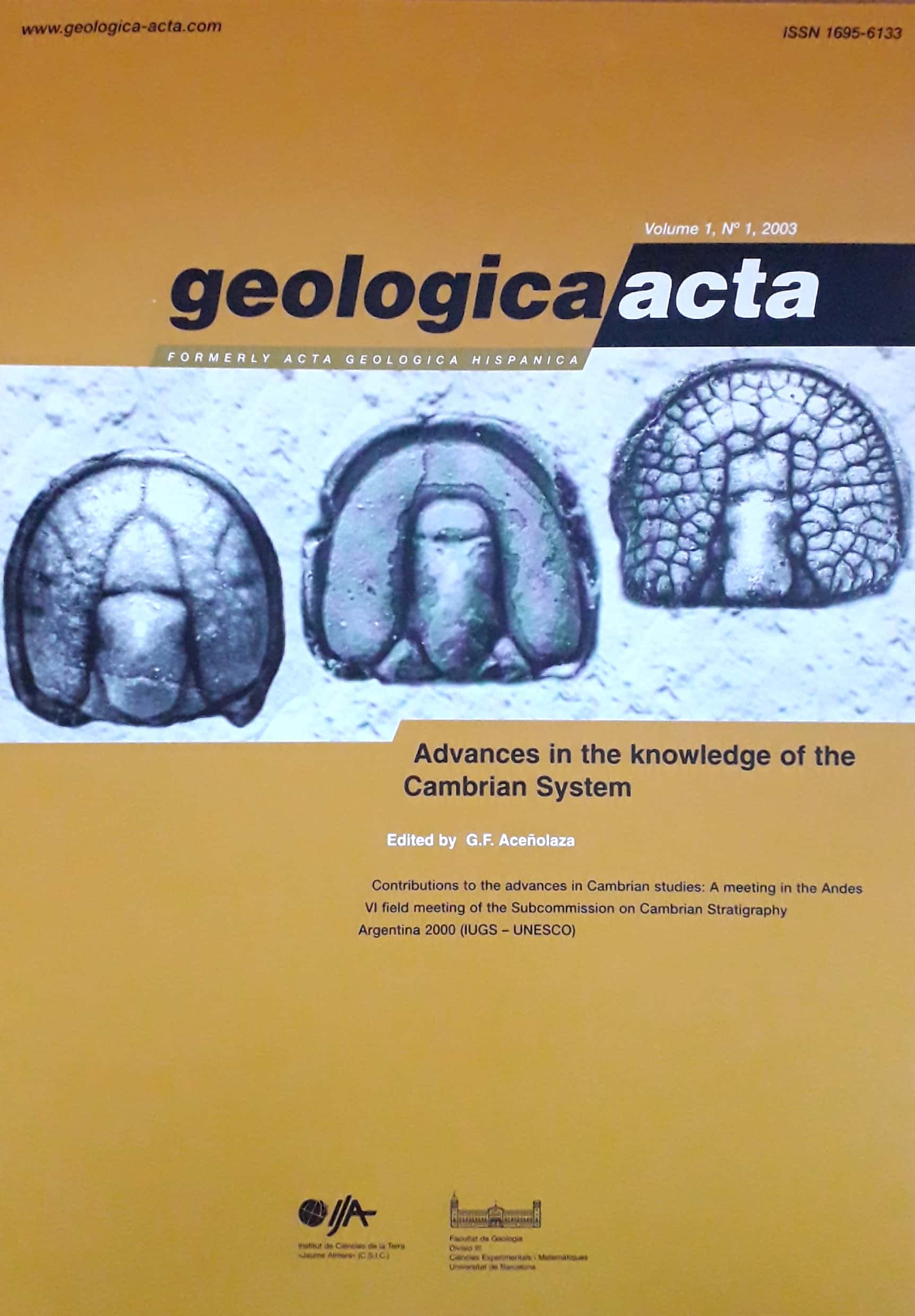 Downloads
License
This work is licensed under a Creative Commons Attribution-ShareAlike 4.0 International License.
Copyright
The commercial rights of the printed and online versions of Geologica Acta are property of the UB, ICTJA, IDAEA and UAB, and Geologica Acta must be cited for any partial or full reproduction.
The opinions and conclusions stated in each article are the exclusive responsability of the authors and do not necessarily coincide with those of the above mentioned institutions UB, ICTJA, IDAEA and UAB.
Author Rights
Authors retain the copyright on their papers (accepted manuscript, uncorrected proof and published paper) and are authorized to post them on their own Web page or their institutional repositories. In all cases, the complete citation and a link to the Digital Object Identifier (DOI) of the article must be included.
The authors can use excerpts or reproduce illustrations of their papers in other works without prior permission of Geologica Acta provided the source of the paper including the complete citation is fully acknowledged.
Papers are distributed under the Attribution-Share Alike Creative Commons License. This license allows others to alter, remix or build upon a paper and the resulting work may be distributed under the same or similar license to this one.