The Cambrian-Ordovician siliciclastic platform of the Balcarce Formation (Tandilia System, Argentina): Facies, trace fossils, palaeoenvironments and sequence stratigraphy
Abstract
The Lower Palaeozoic sedimentary cover of the Tandilia (Balcarce Formation) is made up of thick quartz arenite beds together with kaolinitic claystones and thin fine-grained conglomerates. The Balcarce Formation was formed in the nearshore and inner shelf environments of a tide-dominated and storm influenced open platform. It shows many features suggesting tidal sedimentation. Coarse-grained facies were formed by sand bar migration and accretion. Heterolithic packages are interpreted as interbar (swale) deposits. Subordinated HCS sandstones indicate storm events. The recognition of thick progradational clinoforms allows to confirm that the Balcarce sea was open to the south, as suggested years ago through palaeocurrent interpretation. The great abundance and variety of trace fossils is among the most outstanding characteristics of this unit. The ichnotaxa that have been recognised so far are: Ancorichnus ancorichnus, Arthrophycus alleghaniensis, Arthrophycus isp., Bergaueria isp., Cochlichnus isp., Conostichus isp., Cruziana furcifera, Cruziana isp., Daedalus labeckei, Didymaulichnus lyelli, Didymaulichnus isp., Diplichnites isp., Diplocraterion isp., Herradurichnus scagliai, ?Monocraterion isp., Monomorphichnus isp., Palaeophycus alternatus, Palaeophycus tubularis, Palaeophycus isp., Phycodes aff. pedum, Phycodes isp., Plagiogmus isp., Planolites isp., Rusophycus isp., Scolicia isp. and Teichichnus isp. Trace fossils have traditionally been used to assign the Balcarce Formation to the Lower Ordovician, due to the presence of Cruziana furcifera. However, Plagiogmus is typical of Cambrian successions world-wide.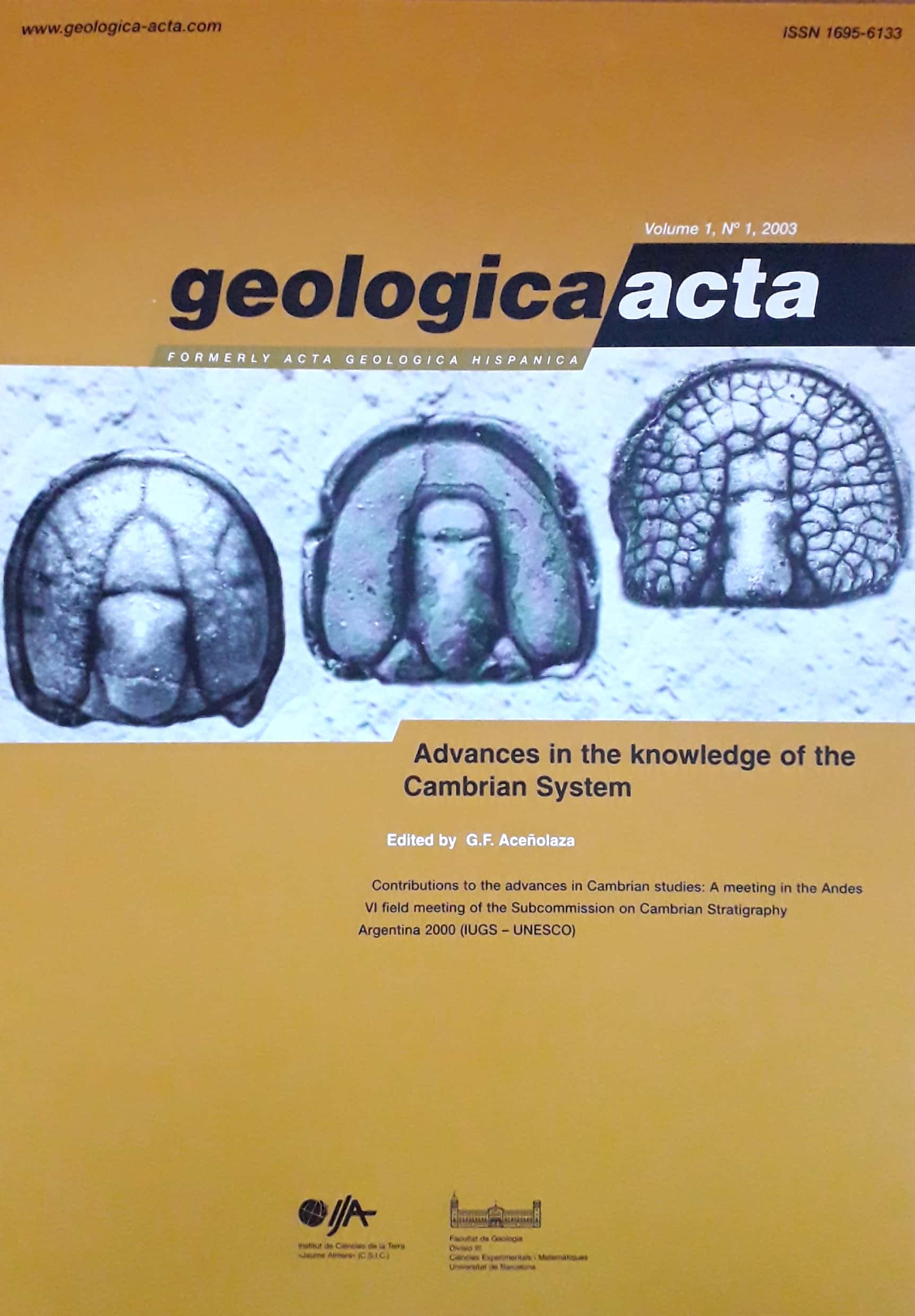 Downloads
License
This work is licensed under a Creative Commons Attribution-ShareAlike 4.0 International License.
Copyright
Geologica Acta is the property of the UB, GEO3BCN, IDAEA and UAB. Geologica Acta must be cited for any partial or full reproduction. Papers are distributed under the Attribution-Share Alike Creative Commons License. This license allows anyone to reproduce and disseminate the content of the journal and even make derivative works crediting authorship and provenance and distributing possible derivative works under the same license or an equivalent license.
Author Rights
Authors retain the copyright on their papers and are authorized to post them on their own web pages or institutional repositories. In all cases, the complete citation and a link to the Digital Object Identifier (DOI) of the article must be included.
The authors can use excerpts or reproduce illustrations of their papers in other works without prior permission from Geologica Acta provided the source of the paper including the complete citation is fully acknowledged.