Biostratigraphic significance of the latest Cambrian-earliest Ordovician agnostoid trilobites from Northwestern Argentina
Keywords:
Trilobita, Agnostida, Latest Cambrian-earliest Ordovician, Northwestern Argentina, Biostratigraphy.
Abstract
The biostratigraphic significance of the latest Cambrian-earliest Ordovician trilobite agnostoids from northwestern Argentina is summarized. A characterization of the faunas recognized below and above the Cambrian-Ordovician boundary is presented on the bases of information from sierra de Cajas (Jujuy Province, Eastern Cordillera; Lampazar and Cardonal Formations), río Volcancito (La Rioja Province, Famatina range; Volcancito Formation) and other localities assigned to the Parabolina frequens argentina Biozone. In addition, the stratigraphic meaning of each agnostoid species from the P. frequens argentina Zone is updated. The uppermost Cambrian is characterized by a distinctive agnostoid assemblage composed of Lotagnostus (Lotagnostus) sp., Lotagnostus (Semagnostus) zuninoi (HARRINGTON and LEANZA), Micragnostus vilonii HARRINGTON and LEANZA, M. calviformis HARRINGTON and LEANZA, Strictagnostus? micropeltis (HARRINGTON and LEANZA), Pseudorhaptagnostus (Machairagnostus) tmetus HARRINGTON and LEANZA, Pseudorhaptagnostus (Machairagnostus) cf. tmetus HARRINGTON and LEANZA, Pseudorhaptagnostus (Machairagnostus) sp., Gymnagnostus bolivianus (HOEK), Gymnagnostus perinflatus HARRINGTON and LEANZA, and Leiagnostus turgidulus HARRINGTON and LEANZA. This fauna is commonly recorded together with the polymeroid Beltella ulrichi (KAYSER), Onychopyge HARRINGTON, Plicatolina scalpta HARRINGTON and LEANZA, Parabolina frequens argentina (KAYSER), Parabolinella coelatifrons HARRINGTON and LEANZA, and Angelina hyeronimi (KAYSER). Based on this agnostoid-polymeroid fauna, a Pseudorhaptagnostus (Machairagnostus) - Gymnagnostus Assemblage Subzone (lower part of the P. frequens argentina Zone) is formally proposed. Agnostoid diversity drastically declines through the Cambrian-Ordovician boundary, probably as a consequence of a regional regressive-transgressive event. In the lowest Tremadoc the agnostoid records are mainly restricted to Trilobagnostus chiushuensis (KOBAYASHI) and some forms described under open nomenclature (Anglagnostus? sp., Micragnostus sp.). The upper part of the P. frequens argentina Zone is better defined by polymeroid trilobites. Jujuyaspis keideli KOBAYASHI is its most characteristic species.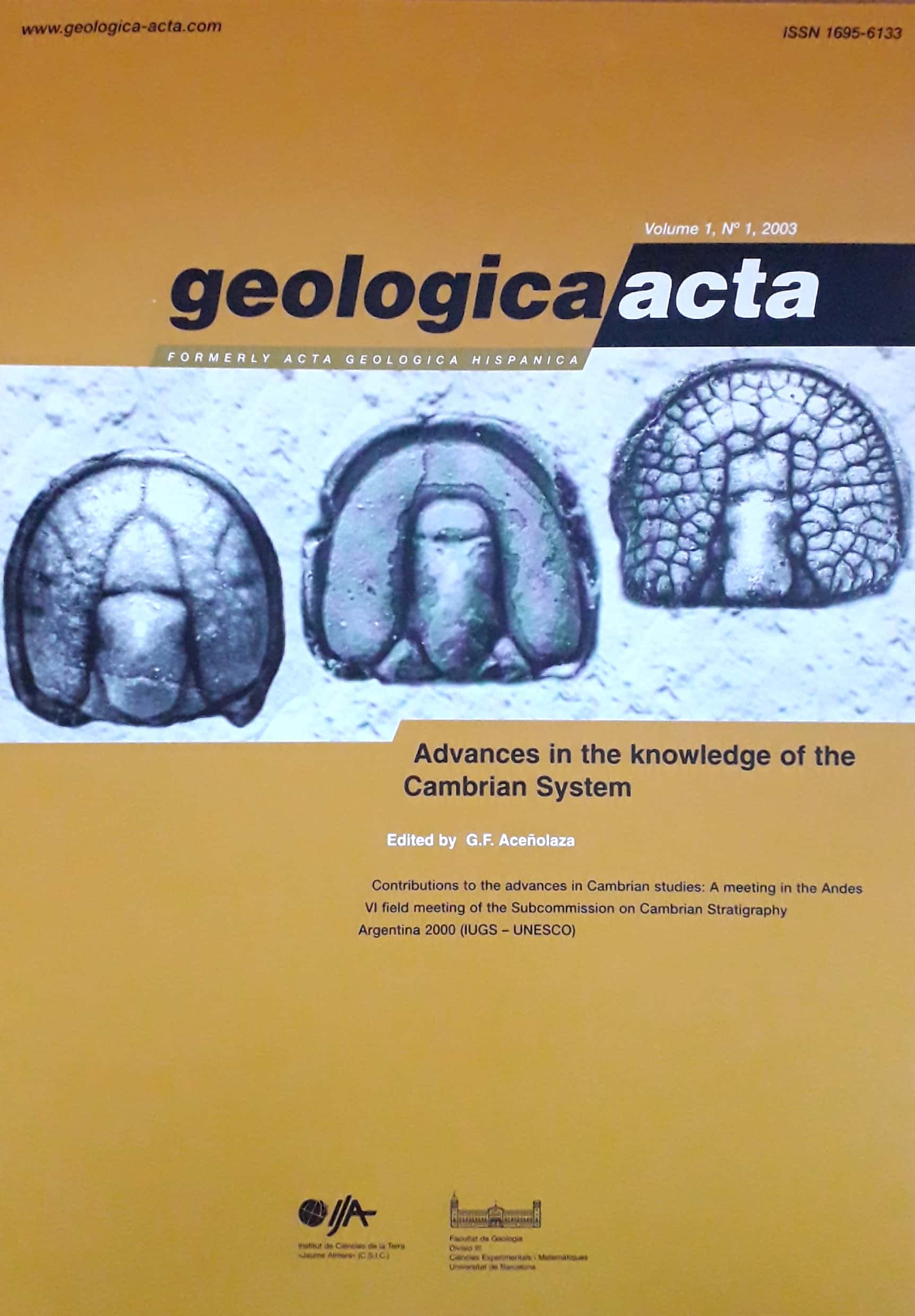 Downloads
License
This work is licensed under a Creative Commons Attribution-ShareAlike 4.0 International License.
Copyright
The commercial rights of the printed and online versions of Geologica Acta are property of the UB, ICTJA, IDAEA and UAB, and Geologica Acta must be cited for any partial or full reproduction.
The opinions and conclusions stated in each article are the exclusive responsability of the authors and do not necessarily coincide with those of the above mentioned institutions UB, ICTJA, IDAEA and UAB.
Author Rights
Authors retain the copyright on their papers (accepted manuscript, uncorrected proof and published paper) and are authorized to post them on their own Web page or their institutional repositories. In all cases, the complete citation and a link to the Digital Object Identifier (DOI) of the article must be included.
The authors can use excerpts or reproduce illustrations of their papers in other works without prior permission of Geologica Acta provided the source of the paper including the complete citation is fully acknowledged.
Papers are distributed under the Attribution-Share Alike Creative Commons License. This license allows others to alter, remix or build upon a paper and the resulting work may be distributed under the same or similar license to this one.