The scientific through of Salvador Reguant
References
Via, L., Reguant, S, 1957. Contribución al estudio de la variabilidad intraespecífica en el género Neptunus en la especie Neptunus catalaunicus. Cursos y Conferencias del Instituto Lucas Mallada, 4, 87-88.
Reguant, S., 1967. El Eoceno marino de Vic (Barcelona). Memorias del Instituto Geológico y Minero de España, 68, 1-350. Reguant, S., 1971. Los conceptos de facies en Estratigrafía. Acta Geologica Hispanica, 6(4), 97-101.
Reguant, S., 1975. On the content of Biostratigraphy as a science (discussion). Geology, 3(5) 231.
Reguant, S., 1975. Entorn el futur inmediat de la humanitat. Questions de Vida Cristiana, 77, 71-77.
Reguant, S., 1986. Geologia Historica. Ketres editora, 105pp.
Reguant, S., 1991. De la consciència i de l'ús de l'artificialitat en un projecte de futur. Qüestions de Vida Cristiana, 156, 9-14.
Reguant, S., 1992. El temps en Geologia. In: Itineraris pels sabers. Reflexions sobre la Segona Trobada de Científics i Humanistes. Sitges, juny 1992. Departament de Cultura. Generalitat de Catalunya, 4-6.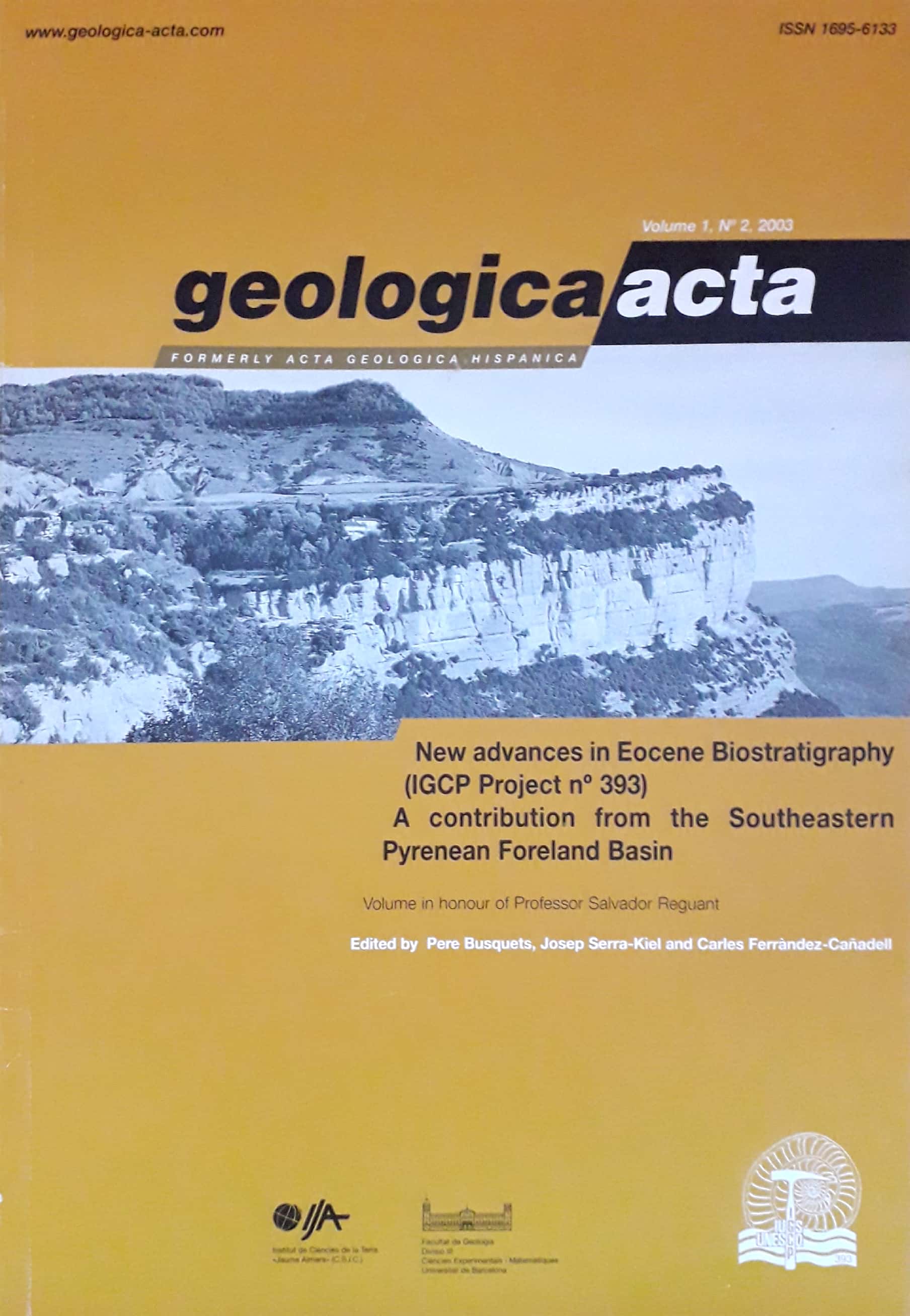 Downloads
License
This work is licensed under a Creative Commons Attribution-ShareAlike 4.0 International License.
Copyright
Geologica Acta is the property of the UB, GEO3BCN, IDAEA and UAB. Geologica Acta must be cited for any partial or full reproduction. Papers are distributed under the Attribution-Share Alike Creative Commons License. This license allows anyone to reproduce and disseminate the content of the journal and even make derivative works crediting authorship and provenance and distributing possible derivative works under the same or an equivalent license.
Author Rights
Authors retain the copyright on their papers and are authorized to post them on their own web pages or institutional repositories. The copyright was retained by the journal from the year 2003 until 2009. In all cases, the complete citation and a link to the Digital Object Identifier (DOI) of the article must be included. 
The authors can use excerpts or reproduce illustrations of their papers in other works without prior permission from Geologica Acta provided the source of the paper including the complete citation is fully acknowledged.