Marine and Transitional Middle/Upper Eocene Units of the Southeastern Pyrenean Foreland Basin (NE spain)
Abstract
The stratigraphic basis of this work has allowed the use of larger foraminifers in the biostratigraphic characterisation of the new Shallow Benthic Zones (SBZ). This part of the volume presents a description of the sedimentary cycles formed by the transgressive-regressive systems of the Lutetian and Bartonian in the southeastern sector of the Ebro Foreland Basin.Concerning the Lutetian deposits studied in the Amer-Vic and Empordà areas, four sedimentary cycles have been characterised. The first and second are found within the Tavertet/Girona Limestone Formation (Reguant,1967;Pallí,1972), while the third and fourth cycles cover the Coll de Malla Marl Formation (Clavell et al.,1970), the Bracons Formation (Gich,1969,1972), the Banyoles Marl Formation (Almela and Ríos,1943),and the Bellmunt Formation (Gich,1969,1972). In the Bartonian deposits studied in the Igualada area,two transgressive-regressive sedimentary cycles have been characterised in the Collbàs Formation (Ferrer,1971),the Igualada Formation (Ferrer,1971),and the Tossa Formation (Ferrer,1971). The Shallow Benthic Zones (SBZs)recognised within the Lutetian are the following:SBZ 13, from the Early Lutetian, in the transgressive system of the first cycle;SBZ 14,from the Middle Lutetian, in the second cycle and the lower part of the transgressive system of the third cycle; SBZ 15,from the Middle Lutetian, in the remaining parts of the third system; SBZ 16, from the Late Lutetian,throughout the fourth cycle.The association of larger foraminifers in the first and second cycles of the Bartonian in the Igualada area has been used as the basis for the definition of SBZs 17 and 18 recognised in the Bartonian of the western Tethys.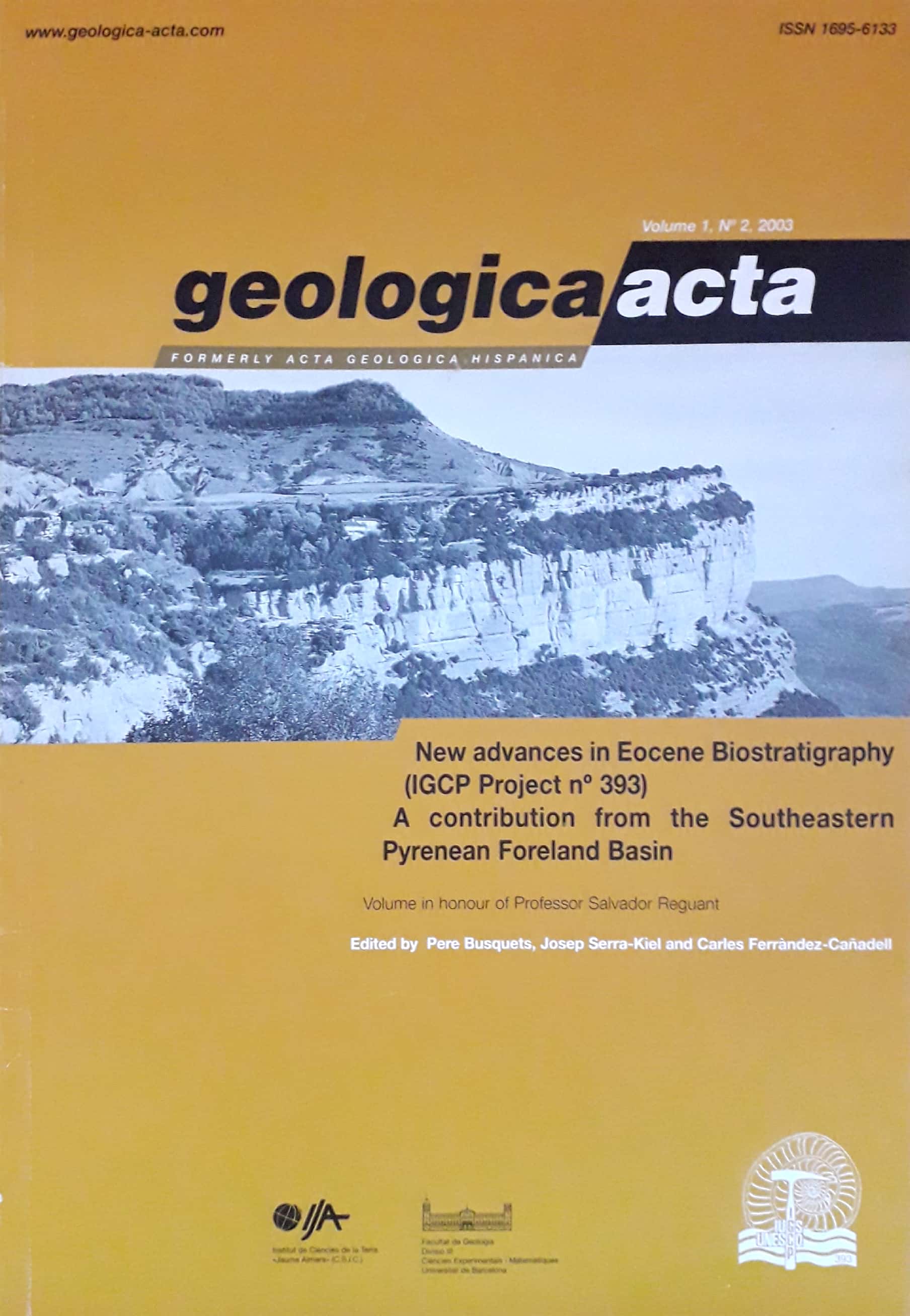 Downloads
License
This work is licensed under a Creative Commons Attribution-ShareAlike 4.0 International License.
Copyright
Geologica Acta is the property of the UB, GEO3BCN, IDAEA and UAB. Geologica Acta must be cited for any partial or full reproduction. Papers are distributed under the Attribution-Share Alike Creative Commons License. This license allows anyone to reproduce and disseminate the content of the journal and even make derivative works crediting authorship and provenance and distributing possible derivative works under the same license or an equivalent license.
Author Rights
Authors retain the copyright on their papers and are authorized to post them on their own web pages or institutional repositories. In all cases, the complete citation and a link to the Digital Object Identifier (DOI) of the article must be included.
The authors can use excerpts or reproduce illustrations of their papers in other works without prior permission from Geologica Acta provided the source of the paper including the complete citation is fully acknowledged.