Coexistence of calc-alkaline and ultrapotassic alkaline magmas at Mounts Cimini: evidence for transition from the Tuscan to the Roman Magmatic Provinces (central Italy)
Keywords:
Olivinlatite, Geochemistry, Ultrapotassic magmatism, Mantle heterogeneity, Mantle source
Abstract
The volcanic complex of Mts. Cimini (~0.90-1.30Ma) represents the geographical and chronological transition between the Tuscan Magmatic Province (TMP) and the Roman Magmatic Province (RMP), in central Italy. Major and trace elements, and Sr, Nd and Pb isotopes of whole-rock, as well as mineral chemistry analyses, were carried out on samples representative of the different petrographic and chronological units of Mts. Cimini. In particular, we focused on the olivine-bearing latites of Mts. Cimini that are the most mafic magmas, belong to the last phase of this volcanic activity, and are heterogeneous in highly incompatible element ratios and Sr-isotope compositions. We suggest that such heterogeneity reflects the occurrence of a heterogeneous upper mantle beneath central Italy, in which different portions, e.g., the sources of both the TMP and RMP, are characterized by distinct geochemical and petrographic features. In this scenario, about 900ka ago, the olivine-bearing latites mark the progressive decline of the TMP magma production in favour of partial melting of the RMP mantle region, thus recording the coexistence of both ultrapotassic alkaline and calc-alkaline magmas in the same volcanic region.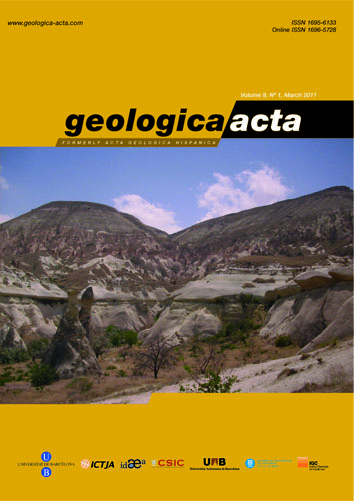 Downloads
License
This work is licensed under a Creative Commons Attribution-ShareAlike 4.0 International License.
Copyright
Geologica Acta is the property of the UB, GEO3BCN, IDAEA and UAB. Geologica Acta must be cited for any partial or full reproduction. Papers are distributed under the Attribution-Share Alike Creative Commons License. This license allows anyone to reproduce and disseminate the content of the journal and even make derivative works crediting authorship and provenance and distributing possible derivative works under the same or an equivalent license.
Author Rights
Authors retain the copyright on their papers and are authorized to post them on their own web pages or institutional repositories. The copyright was retained by the journal from the year 2003 until 2009. In all cases, the complete citation and a link to the Digital Object Identifier (DOI) of the article must be included. 
The authors can use excerpts or reproduce illustrations of their papers in other works without prior permission from Geologica Acta provided the source of the paper including the complete citation is fully acknowledged.