A new sauropod titanosaur from the Plottier Formation (Upper Cretaceous) of Patagonia (Argentina)
Keywords:
Titanosauria, Plottier Formation, Coniacian-Santonian, Late Cretaceous, Río Neuquén Subgroup, Argentina
Abstract
This paper presents a new titanosaur sauropod, collected from levels of reddish clays assigned to the Plottier Formation (Coniacian-Santonian). The holotype of Petrobrasaurus puestohernandezi gen. et. sp. nov. is a disarticulated specimen, from which teeth, cervical, dorsal and caudal vertebrae, sternal plates, metacarpals, femora, tibia, a fragment of ilium, pubis, haemal arches, and cervical and dorsal ribs have been preserved. This period is of particular interest because it saw the definitive isolation of the vertebrate faunas of Patagonia, with the separation of South America from the rest of Gondwana, a process that had begun during the Early Cretaceous. Although some of the characters observed in Petrobrasaurus gen. nov. suggest a relationship with the South American clade Lognkosauria, this new sauropod is regarded as Titanosauria incertae sedis until a more profound analysis of the Titanosauria that in which it is included is undertaken.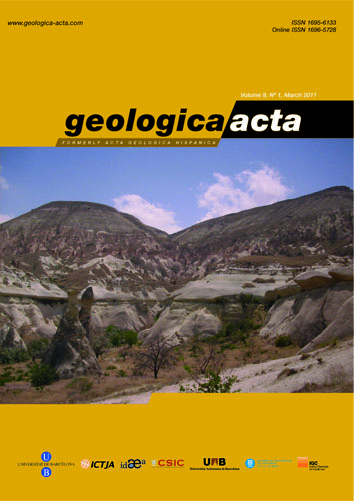 Downloads
License
This work is licensed under a Creative Commons Attribution-ShareAlike 4.0 International License.
Copyright
Geologica Acta is the property of the UB, GEO3BCN, IDAEA and UAB. Geologica Acta must be cited for any partial or full reproduction. Papers are distributed under the Attribution-Share Alike Creative Commons License. This license allows anyone to reproduce and disseminate the content of the journal and even make derivative works crediting authorship and provenance and distributing possible derivative works under the same or an equivalent license.
Author Rights
Authors retain the copyright on their papers and are authorized to post them on their own web pages or institutional repositories. The copyright was retained by the journal from the year 2003 until 2009. In all cases, the complete citation and a link to the Digital Object Identifier (DOI) of the article must be included. 
The authors can use excerpts or reproduce illustrations of their papers in other works without prior permission from Geologica Acta provided the source of the paper including the complete citation is fully acknowledged.