U-Pb zircon age of Ordovician magmatism in the Albera Massif (Eastern Pyrenees)
Keywords:
Pre-Variscan, Early-Mid Ordovician magmatism, SHRIMP geochronology, U-Pb zircon dating, Eastern Pyrenees
Abstract
New geochronological data from the Albera Massif confirm the presence of an Early – Mid Ordovician igneous event (472 - 465Ma) recorded in the pre-Variscan rocks of the Pyrenees. This event resulted in the emplacement of a large granitic body in the lower part of the pre-Upper Ordovician metasedimentary succession and in the intrusion of a series of metric sized dykes in the middle and upper parts of it. The two types of igneous rocks were gneissified during subsequent Variscan deformation. The geochronological data confirm the occurrence of the gneiss as having derived from an Ordovician intrusive sheet, as in other Pyrenean massifs. The dykes are considered to be the subvolcanic equivalent of the intrusive sheet. The data also provide insight into the age of the metasedimentary series of the massif and enable us to correlate the dated rocks with other gneissic and subvolcanic bodies of the Variscan massifs of the Pyrenees and Iberia.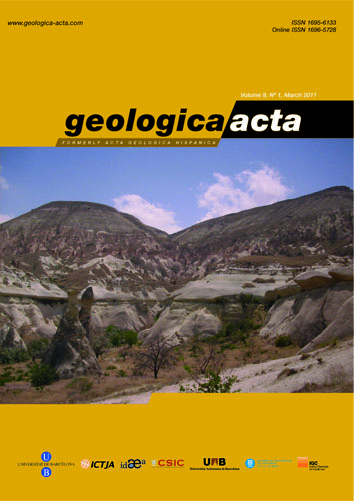 Downloads
License
This work is licensed under a Creative Commons Attribution-ShareAlike 4.0 International License.
Copyright
Geologica Acta is the property of the UB, GEO3BCN, IDAEA and UAB. Geologica Acta must be cited for any partial or full reproduction. Papers are distributed under the Attribution-Share Alike Creative Commons License. This license allows anyone to reproduce and disseminate the content of the journal and even make derivative works crediting authorship and provenance and distributing possible derivative works under the same or an equivalent license.
Author Rights
Authors retain the copyright on their papers and are authorized to post them on their own web pages or institutional repositories. The copyright was retained by the journal from the year 2003 until 2009. In all cases, the complete citation and a link to the Digital Object Identifier (DOI) of the article must be included. 
The authors can use excerpts or reproduce illustrations of their papers in other works without prior permission from Geologica Acta provided the source of the paper including the complete citation is fully acknowledged.