Devonian palynological assemblages from the San Antonio x-1 Borehole, Tarija Basin, northwestern Argentina
Keywords:
Palynofloras, Devonian, Los Monos Formation, Tarija Basin, Northwestern Argentina
Abstract
The palynological analysis of the 2548-3628 m interval of the San Antonio x-1 Borehole in northwestern Argentina is presented. The illustrated palynoflora is composed of 96 species represented by diverse palynological groups such as trilete spores and cryptospores (46 species), microplankton (39 species), chitinozoans (7 species), scolecodonts, and some remaining specimens in open nomenclature and as incertae sedis. One new species, Retusotriletes ottonei, is described. Thirty-four species are first records in the Argentinean Devonian. Three assemblages (SA1, SA2, and SA3) are defined based on the presence, absence, or abundance of groups of taxa. The presence of Grandispora protea and Grandispora douglastownense among others in the assemblage SA1 is indicative of a late Emsian to mid-Eifelian age. The concurrence of Acinosporites macrospinosus and A. acanthomammillatus in the assemblage SA2 is indicative of a late Eifelian-mid Givetian and is also supported by the appearance of several other species such as Chomotriletes vedugensis, Dibolisporites farraginis and Biharisporites parviornatus. An early Frasnian age is associated to the assemblage SA3 on the basis of the appearances of Lunulidia micropunctata, Pseudolunulidia laevigata, Verrucosisporites bulliferus and the abundance of Maranhites. The assemblages SA1 and SA2 reflect a nearshore, shallow marine depositional conditions, characterized by a high terrestrial input and variable marine influence, while the assemblage SA3 could represent a transgression during that time. The assemblages are composed of many cosmpolitan index species that support a partial correlation with Brazilian and Euramerican zonations resulting from the effects of paleolatitude and the configuration of land and sea for that time, with a narrow Rheic Ocean between northern Gondwana and Euramerica.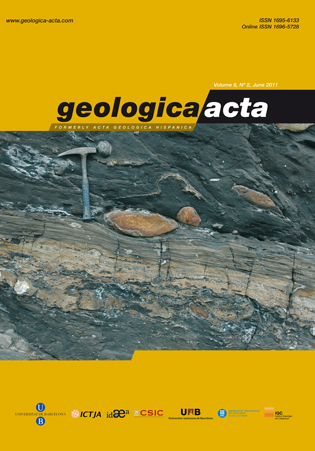 Downloads
License
Copyright
Geologica Acta is the property of the UB, GEO3BCN, IDAEA and UAB. Geologica Acta must be cited for any partial or full reproduction. Papers are distributed under the Attribution-Share Alike Creative Commons License. This license allows anyone to reproduce and disseminate the content of the journal and even make derivative works crediting authorship and provenance and distributing possible derivative works under the same license or an equivalent license.
Author Rights
Authors retain the copyright on their papers and are authorized to post them on their own web pages or institutional repositories. In all cases, the complete citation and a link to the Digital Object Identifier (DOI) of the article must be included.
The authors can use excerpts or reproduce illustrations of their papers in other works without prior permission from Geologica Acta provided the source of the paper including the complete citation is fully acknowledged.