A new key locality for the Pliocene vertebrate record of Europe: the Camp dels Ninots maar (NE Spain)
Keywords:
Mammals, Chelonians, Amphibians, Pliocene, Konservat-Lagestätte, Maar
Abstract
A new Pliocene Konservat-Lagerstätte in north-eastern Spain is described here for the first time. It is referred to as Camp dels Ninots. The particular geological conditions of the site, which correspond to lacustrine sedimentation in a maar, made it ideal for the preservation of fossils. At present, five large mammal skeletons in anatomical connection have been recovered: three individuals of Alephis tigneresi, one of Stephanorhinus jeanvireti and one of Tapirus arvernenis, as well as isolated remains. A minimum of five individuals of the chelonian Mauremys leprosa have been recovered, some of them in anatomical connection. The rodent Apodemus atavus, the amphibians cf. Pleurodeles sp., Lissotriton aff. helveticus and Pelophylax cf. perezi and freshwater fishes (Leuciscus ?) complete the vertebrate assemblage uncovered up to the present time. The coexistence of Stephanorhinus jeanvireti and Alephis tigneresi suggests an age of about 3.2Ma for the Camp dels Ninots, near the MN15-MN16 transition. The Camp del Ninots fossil record enables one to extend the biogeographic range of some vertebrate taxa, such as Stephanorhinus jeanvireti, Tapirus arvernensis or Mauremys leprosa to the Iberian Peninsula. Taphonomic evidences of the skeletal remains indicates minimal (if any) weathering. Deposition at the lake bottom seems to have taken place in oxygen depleted layers. In this way, Camp dels Ninots is comparable to other remarkable maar sites such as Messel, the Eocene site situated in Germany.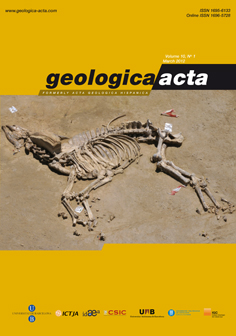 Downloads
License
Copyright
Geologica Acta is the property of the UB, GEO3BCN, IDAEA and UAB. Geologica Acta must be cited for any partial or full reproduction. Papers are distributed under the Attribution-Share Alike Creative Commons License. This license allows anyone to reproduce and disseminate the content of the journal and even make derivative works crediting authorship and provenance and distributing possible derivative works under the same license or an equivalent license.
Author Rights
Authors retain the copyright on their papers and are authorized to post them on their own web pages or institutional repositories. In all cases, the complete citation and a link to the Digital Object Identifier (DOI) of the article must be included.
The authors can use excerpts or reproduce illustrations of their papers in other works without prior permission from Geologica Acta provided the source of the paper including the complete citation is fully acknowledged.