Structural and paleomagnetic evidence for non-rotational kinematics of the South Pyrenean Frontal Thrust at the western termination of the External Sierras (southwestern central Pyrenees)
Keywords:
Non-rotational, South-Pyrenean Frontal thrust, Vertical Axis Rotations, Gradient of shortening, Balanced and restored cross-section, Paleomagnetism
Abstract
The definition of the structure and kinematics of the South-Pyrenean Frontal thrust, to the west of its westernmost outcrop in the External Sierras is the goal of this work. The methodology used is based on the construction and restoration of three balanced cross-sections. In addition to that, paleomagnetic analyses are applied to unravel possible vertical axis rotations linked to thrust kinematics. Stepwise thermal demagnetizations of 22 new sites together with previously published data from 25 sites (sampled in Bartonian-Priabonian sediments) define reliable primary directions in the region allowing for potential vertical axis rotations estimation. The comparison between the deformed and the pre-deformational states in the cross-sections agrees with the paleomagnetic data in that neither gradient of shortening, nor significant vertical axis rotations can be invoked to explain the along-strike changes of the main structures (folds and thrusts) linked to the South-Pyrenean Frontal thrust, west of the western termination of the External Sierras. Therefore, these changes are here interpreted as the result of a wedge thrust in the Paleozoic basement, whose displacements in transferred to the Mesozoic-Tertiary cover through the Upper Triassic detachment level. This non-rotational kinematics of deformation implies a change of deformational style with respect to the External Sierras, where clockwise vertical axis rotations and gradient of shortening linked to rotational kinematics are found to be controlled by the Upper Triassic detachment level.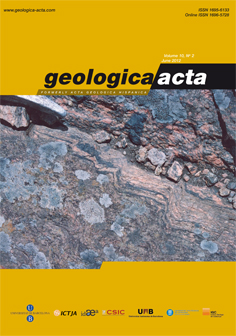 Downloads
License
Copyright
The commercial rights of the printed and online versions of Geologica Acta are property of the UB, ICTJA, IDAEA and UAB, and Geologica Acta must be cited for any partial or full reproduction.
The opinions and conclusions stated in each article are the exclusive responsability of the authors and do not necessarily coincide with those of the above mentioned institutions UB, ICTJA, IDAEA and UAB.
Author Rights
Authors retain the copyright on their papers (accepted manuscript, uncorrected proof and published paper) and are authorized to post them on their own Web page or their institutional repositories. In all cases, the complete citation and a link to the Digital Object Identifier (DOI) of the article must be included.
The authors can use excerpts or reproduce illustrations of their papers in other works without prior permission of Geologica Acta provided the source of the paper including the complete citation is fully acknowledged.
Papers are distributed under the Attribution-Share Alike Creative Commons License. This license allows others to alter, remix or build upon a paper and the resulting work may be distributed under the same or similar license to this one.