The Stillwater Complex chromitites: The response of chromite crystal chemistry to magma injection
Keywords:
X-ray single crystal diffraction, Structural refinement, Cr-spinel, Stillwater
Abstract
Nineteen chromite crystals from the A, B, E, G, H, J and K chromitite layers of the Peridotite Zone of the Stillwater Complex (Montana, USA) have been studied by means of X-ray single crystal diffraction and microprobe analyses. The results show that samples from the basal A layer are quite different from the others showing very high oxygen positional parameter u (0.2633-0.2635) and Ti- contents (0.059-0.067apfu). Mg# values are within the range 0.21-0.23 while for the other chromites it is in the range 0.45-0.47. Moreover, for the other samples, according to the structural parameters, two groups have been identified. The first one comprises samples of layers B, E and G, the second includes H, J and K layer samples. It is supposed that high Fe2+ and Ti contents of A layer samples are due to the post-crystallization reaction with interstitial liquid. This fact allowed a very slow cooling rate as evidenced by the high u values. The fractionation of evolved magma from within the intrusion and pulse of a new magma bringing more chromium into the chamber lead to Cr- and Fe3+ -rich compositions and consequently to the increase of the cell edges. The decrease of u values seems to be related to the Cr+Fe3+ and/or Al contents.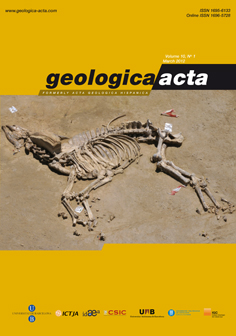 Downloads
License
Copyright
Geologica Acta is the property of the UB, GEO3BCN, IDAEA and UAB. Geologica Acta must be cited for any partial or full reproduction. Papers are distributed under the Attribution-Share Alike Creative Commons License. This license allows anyone to reproduce and disseminate the content of the journal and even make derivative works crediting authorship and provenance and distributing possible derivative works under the same license or an equivalent license.
Author Rights
Authors retain the copyright on their papers and are authorized to post them on their own web pages or institutional repositories. In all cases, the complete citation and a link to the Digital Object Identifier (DOI) of the article must be included.
The authors can use excerpts or reproduce illustrations of their papers in other works without prior permission from Geologica Acta provided the source of the paper including the complete citation is fully acknowledged.