Stable isotope geochemistry of the Ulldemolins Pb-Zn-Cu deposit (SW Catalonian Coastal Ranges, Spain)
Keywords:
Ore deposits, Skarn, Calcsilicates, Stable isotopes, Fluid inclusions
Abstract
The Pb-Zn-Cu deposit of Ulldemolins occurs within the Carboniferous sedimentary series of the southernmost Catalonian Coastal Ranges. It consists of sulphide-bearing calc-silicate assemblages, with epidote, Ca-amphiboles and Ca-garnet, which develop selectively along a dolomicrite bed near the contact with a granite porphyry. Two mineralisation styles can be differentiated: a) banded and b) irregular. Fluid inclusions and stable isotope compositions of sulphur in sulphides (sphalerite, galena and chalcopyrite) and carbon and oxygen in carbonates (calcite and dolomite) were studied in order to constrain the genesis and the source of mineralizing fluids. Fluid inclusions in sphalerite and calcite are aqueous, liquid+vapour and have a salinity between 1.2 and 7.2 wt% NaCl eq. and homogenization temperatures in the range of 273º to 368ºC. The δ4S(V-CDT) values in the banded mineralisation are mostly between –1.5 and +2.1‰, and those from the irregular mineralisation are between –1.1 and +20.5‰. These δ4S values of the banded mineralisation are in agreement with a magmatic origin of sulphur. In addition, the δ8O(SMOW) values of hydrothermal calcite, from +6.9 to +12.5‰, are consistent with a magmatic origin of the fluids that formed the banded ore deposit. Later, a new input of fluids interacted with the previously formed mineral assemblages and modified part of the deposit, leading locally to an irregular skarn mineralisation.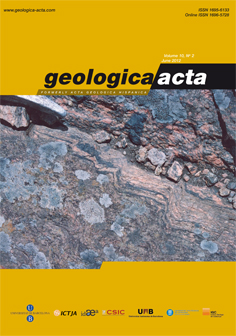 Downloads
License
Copyright
The commercial rights of the printed and online versions of Geologica Acta are property of the UB, ICTJA, IDAEA and UAB, and Geologica Acta must be cited for any partial or full reproduction.
The opinions and conclusions stated in each article are the exclusive responsability of the authors and do not necessarily coincide with those of the above mentioned institutions UB, ICTJA, IDAEA and UAB.
Author Rights
Authors retain the copyright on their papers (accepted manuscript, uncorrected proof and published paper) and are authorized to post them on their own Web page or their institutional repositories. In all cases, the complete citation and a link to the Digital Object Identifier (DOI) of the article must be included.
The authors can use excerpts or reproduce illustrations of their papers in other works without prior permission of Geologica Acta provided the source of the paper including the complete citation is fully acknowledged.
Papers are distributed under the Attribution-Share Alike Creative Commons License. This license allows others to alter, remix or build upon a paper and the resulting work may be distributed under the same or similar license to this one.